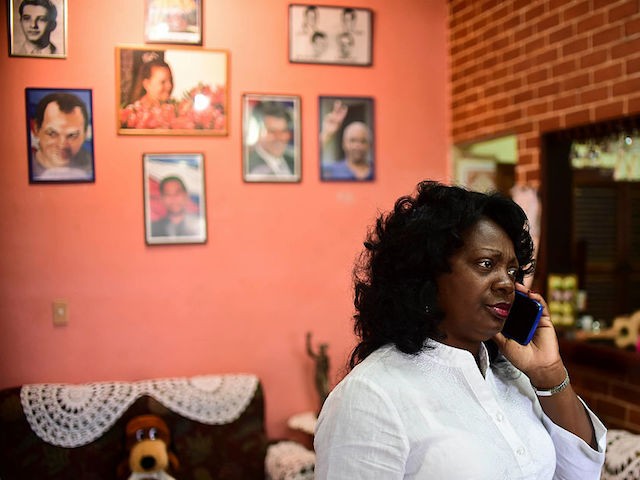 Cuban dissidents published a video Sunday showing the head of Cuba's pro-democracy Ladies in White group, Berta Soler, being assaulted and dragged away by state security for holding up a sign reading "Revolution is Repression."
Soler appears in the video detailing the incident, as well as being the focus of the footage of the arrest. She testifies that the security agents injured her shoulder and painfully squeezed her face, causing visible bleeding inside her eye.
In the video, posted on Sunday by Soler's husband Ángel Moya, a fellow dissident and former political prisoner, the incident occurred on Sunday, September 23. Soler stood outside of her home silently holding a protest sign when several state security agents approached her.
"Two guards came out to arrest me violently … one of them grabbed me by the shoulder, which she injured, and with the other hand grabbed my face," Soler narrates. She notes that the agent appears to look behind her and receive an order from a superior before attacking. "I make responsible for anything that happens to me in the short term and long term the state security department and the Cuban regime."
159 Domingo Represivo vs.#TodosMarchamos.
Derrame ocular provocado x arresto violento ordenado x DSE vs. @DamasdBlanco Berta Soler .#evolucionEsRepresion en #Cuba .@ForoDyL pic.twitter.com/APAom4Q7Sg

— Angel Juan Moya (@jangelmoya) September 28, 2018
Soler's group is made up of the wives, daughters, sisters, and mothers of political prisoners. Their sole act of protest is to wear white and silently march to Catholic Mass on Sunday mornings carrying gladiolas and images of their imprisoned loved ones. Every week for the past two years, Communist Party agents have beaten, arrested, and tortured Ladies in White members on Sundays in an attempt to silence them. Despite the religious nature of their protest, the Vatican has done little to speak out in their favor and some churches in Cuba have preemptively banned them from attending Mass to prevent disputes with the government.
Many members of the Ladies in White are arrested on a weekly basis for attempting to go to church, beaten and detained for hours without charge. When released, police often leave them hours from their homes without any way of getting back. On some occasions, Ladies in White face actos de repudio, or "acts of repudiation," in which plain-clothed mobs organized by the government surround their homes, insulting them with profane and sometimes racist invective and defacing their property. On at least one occasion, a communist mob tarred a Lady in White for attempting to silently protest.
As the leader of the group, Soler is often subject to this behavior. The Cuban Commission for Human Rights and National Reconciliation (CCDHRN), an NGO that tracks politically motivated arrests on the island, recorded that Soler was arrested four times in August and five in July for attempting to go to church. The group has not yet released their monthly report for September.
While the Vatican has not extended support to the Ladies in White, the Trump administration has done so, inviting Soler to last year's event announcing the repeal of pro-Castro policies introduced in the Obama era and hosting her and other dissidents for an annual Independence Day party on July 4. The regime banned Soler from leaving the country to attend the policy announcement in Miami last year.
Repression in Cuba against dissidents has increased despite the regime attempting to attract more American dollars in tourism revenue and foreign investment. Cuba's President Miguel Díaz-Canel, a subordinate to dictator Raúl Castro, spent last week in New York urging leftists and left-leaning organizations to consider spending more in Cuba, claiming to be interested in greater connectivity with Washington. The push is necessary following a steep drop in tourism to the island as American become more aware of the dire state of affairs after over half a century of communist policies.
Yet before the United Nations General Assembly, Díaz-Canel made clear that he was not a reformer president or that he had any interest in or power over changing the state of affairs in the island country.
"The generational change in our government should not lead the adversaries of the Revolution to harbor any illusions," he said. "We are continuity, not rupture. Cuba has persisted in perfecting its economic and social development model with the goal of constructing a sovereign, independent, socialist, democratic, prosperous, and sustainable nation."
Follow Frances Martel on Facebook and Twitter.
http://feedproxy.google.com/~r/breitbart/~3/1FFVeTwOV-Q/