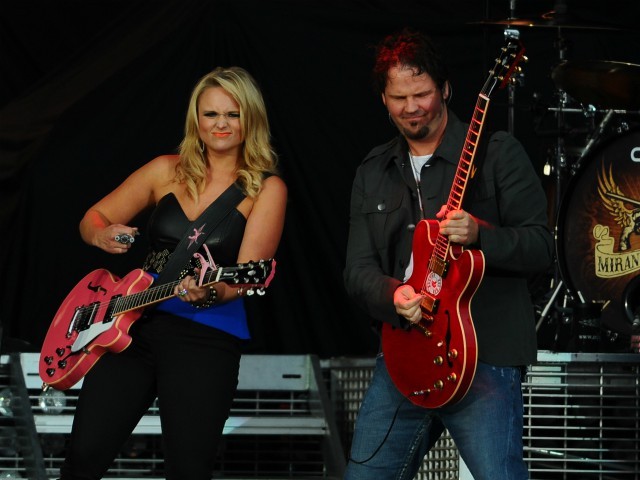 Country singer Miranda Lambert said in a new interview that she needed "someone with a penis" to get a number one song.
"Yes, I had to sing with someone with a penis to get a number one," Miranda Lambert told the Washington Post, in reference to the song "Drowns The Whiskey," a collaborative effort between herself and country superstar Jason Aldean.
"I do like this person, Jason Aldean, a lot . . . so it was a great song with an old friend," the 35-year-old singer said, telling the Post, "It is interesting that I haven't had even a Top 20 in a long, long time. And then it goes No. 1 because it's a dude."
"But you know — if we went and looked at how many singles or records were sold for the Top 10 songs right now, I'd probably triple it on record sales. So it doesn't matter," she also said.
The issue of gender in the country music scene is a fraught one. Country music has a number of high-profile female stars, but the genre is still largely dominated by male talent. In September, CMT's "Artist of the Year" telecast announced that they would feature a women-only show.
According to CMT senior Vice President Leslie Fram, the decision "was meant to spark a much-needed change in the industry."
Politics also clouds country music, as it does all areas of pop culture. Many fans are conservative leaning, which occasionally puts them at odds with stars like Willie Nelson and the Dixie Chicks. Lambert herself has said that she has no interest in preaching politics in her music.
"I am a 100 percent believer in not ever using the platform that I've built for anything other than music, because music to me is an escape from your own reality," the "Tin Man" singer said last year.
"I don't want to go to a show and hear somebody preach about their opinions."
http://feedproxy.google.com/~r/breitbart/~3/D-UO_G1u1gI/