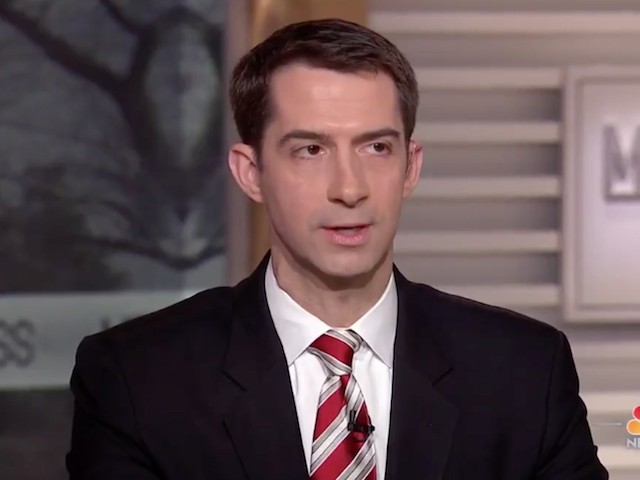 During Wednesday's nationally syndicated "Hugh Hewitt Show," Sen. Tom Cotton (R-AR) shared that the Senate will work Christmas Eve and New Year's Eve to get district and appeals court judges confirmed.
Cotton blamed "unprecedented Democratic obstruction" for judges not being confirmed at this point in the year.
"[W]e're going to be confirming several more judges to our Courts of Appeals and to the district courts," said Cotton. "I know that Senator McConnell has made a commitment that we're not going to leave any judges behind over these next two months. You know, if they've been pending waiting for a vote, votes that should have come months ago if it weren't for unprecedented Democratic obstruction, they would have been already been confirmed. In fact, the president just nominated this week Neomi Rao to replace Brett Kavanaugh on the D.C. Circuit Court of Appeals. I think we'll be able to confirm her before we start the new year."
Host Hugh Hewitt asked the senator, "Do you think you'll be voting there on Christmas Eve? Do you think you're staying that late to get judges done?"
"Well, Hugh, that's really in the hands not of Mitch McConnell, but of the Democrats," Cotton replied. "Senator McConnell has made it clear, as he did back in October, that we're going to confirm these judges, judges that should have been confirmed months ago, Hugh, if it weren't for the unprecedented obstruction of the Senate Democrats. So it's really up to them whether they want to confirm those on Christmas Eve or New Year's Eve, or whether they want to confirm them earlier in December by yielding back the time. That has been the custom in the Senate for over 200 years.
He continued, "Regardless, when we come back in January, we're going to have two more senators. We're not going to be 51-49. We're going to be at 53-47, and we'll start once again, you know, confirming judges as soon as the president sends them up and we can process those nominations in an orderly fashion and have the confirmation hearings."
Follow Trent Baker on Twitter @MagnifiTrent
http://feedproxy.google.com/~r/breitbart/~3/HbbwBDjNDZA/