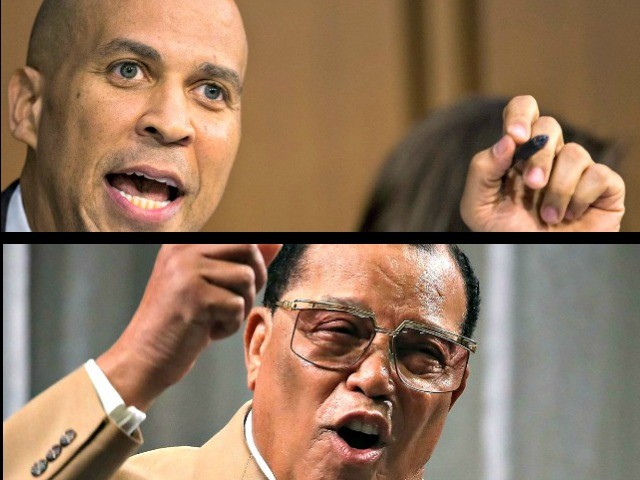 On Monday, Sen. Cory Booker (D-NJ) spoke at the Anti-Defamation League's annual summit on anti-semitism and hate, where he insisted "it's not enough" to say you're not anti-Semitic, you "must be anti-anti-Semitism."
Booker's comments contradict a tweet he sent out, however, highlighting renowned anti-Semite Louis Farrakhan.
"If you love someone, it's not enough to sit back and watch and be a bystander," Booker told the audience. "Love means that you must be actively engaged in the affirmation and elevation of human dignity for all people."
He added, "It's not enough to say I'm not racist, you must be anti-racism. It's not enough to say I'm not anti-Semitic, you must be anti-anti-Semistism."
"Love is the active engagement in creating the beloved community and affirming dignity."
WATCH:
"Our lives are our fortunes and our sacred honor. That's what America needs right now. That scared honor. That revival of civic grace. That understanding that we must stand up for each other," Booker said during the speech. "That bigotry has no place. That racism has no place. That anti-Semitism has no place."
In a 2016 tweet, Booker shared a photo of the Million Man March that included a photo of Louis Farrakhan, contradicting his current comments.
Remembering the #MillionManMarch on October 16, 1995.
May the unity and spirit of the march continue to live on. pic.twitter.com/78KbNzMiaO

— Cory Booker (@CoryBooker) October 16, 2016
Farrakhan, a known anti-Semite, gave a speech in October where he compared Jewish people to termites.
Farrakhan said, "I'm not anti-Semite. I'm anti-Termite."
Booker's tweet reads: "Remembering the #MillionManMarch on October 16, 1995. May the unity and spirit of the march continue to live on."
Several prominent Democrats have tied themselves to the controversy surrounding Farrakhan.
For years, the Congressional Black Caucus has had connections with Farrakhan. Among those that have been known to associate themselves with Farrakhan are G. K. Butterfield, John Conyers, Maxine Waters, Sheila Jackson Lee, and Barbara Lee.
The Women's March, which has taken part in social justice movements like Me Too, Never Again, and Time's Up, also has a problem when it comes to associating with Farrakhan.
Several of the group's leaders, including Linda Sarsour, Tamika Mallory, and Carmen Perez, have faced scrutiny recently over their ties to Farrakhan. Many members have exited the group and said they will not come back until the women that oversee the group condemn and cut ties with Farrakhan.
Teresa Shook, who founded the Women's March, called for the removal of Bob Bland, Tamika Mallory, Linda Sarsour, and Carmen Perez from Womens March Inc. and said they "have steered the Movement away from its true course."
Rabbi Shmuley, who was once one of Booker's chief advocates in the Jewish community, has continuously asked Booker to condemn Farrakhan and has received no public response.
Louis Farrakhan calling Jews termites is a virtual call to genocide. The Nazis regularly referred to Jews as roaches and pests who needed to be exterminated. I call on African-American leaders like my close friend @CoryBooker to immediately condemn this vile and loathsome attack.

— Rabbi Shmuley (@RabbiShmuley) October 17, 2018
Cory's older brother, John Taylor, a very dear friend, arranged for me to speak at MLK Chapel at Morehouse.Was a highlight of my life. Cory should address MLK's great legacy and how its antithesis, Louis Farrakhan, just called Jews "termites," which is what the Nazis called them. https://t.co/8OgCRGUBA8

— Rabbi Shmuley (@RabbiShmuley) October 18, 2018
"It is right to demand that President Trump condemn neo-Nazis. But why should Democrats give Farrakhan a pass," Shmuley asked in a Jerusalem Post piece earlier this month.
Follow Kyle on Twitter @RealKyleMorris and Facebook.
http://feedproxy.google.com/~r/breitbart/~3/plpsHpAn5e8/