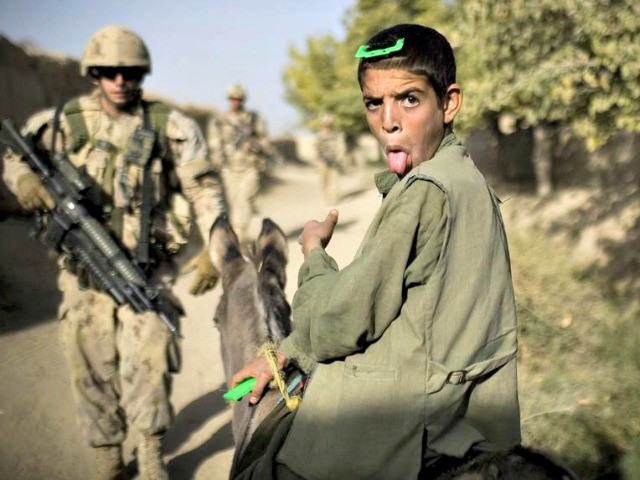 Sen. Rand Paul (R-KY) last week tried to block billions in U.S. taxpayer funds from going to the Afghan military and police forces unless its' units stopped sexually abusing young boys, but he was opposed by Senate Foreign Relations Committee leaders.
During a committee business meeting last Wednesday considering the reauthorization of the Trafficking Victims Protection Act of 2000, Paul proposed an amendment to withhold all U.S. funding for all Afghan security forces unless the U.S. government's watchdog in Afghanistan could verify those forces were not using children as child soldiers or sex slaves.
The U.S. is slated to provide Afghan security forces — military and police — with $4.92 billion in 2019 for equipment, training, supplies, services, infrastructure repair and other funding.
Paul told other members, according to a transcript of the business meeting first obtained by Breitbart News: "I think that the committee is right to be gravely concerned with sexual trafficking and abuse of young people around the world in a variety of countries. I think we shouldn't turn a blind eye towards when our allies are responsible for this, as well."
Specifically, Paul referred to the common Afghan practice of "bacha bazi" — or using boys as young as 10 years old for sex. Some U.S. troops who have deployed to Afghanistan have tried to stop instances of sexual abuse when they have come across it, but have been punished for doing so, according to reports.
He brought up the case of former Army Special Forces Capt. Dan Quinn, who beat up an Afghan commander for keeping an approximately 10-year-old boy chained to his bed as a sex slave and beating up his mother when she tried to rescue him. Quinn was relieved of command as a result.
"His complaint was we're putting people into power who could do things even far worse than things the Taliban did, and that these views were expressed to him as he traveled throughout Afghanistan," Paul said during the committee meeting.
"My amendment would say that no Afghan entity is allowed to receive funds from the U.S. until the Special Inspector General (SIGAR) verifies that there are no child soldiers or sex slaves, commonly known as bacha bazi, being utilized by any individual or unit within the department," he said.
However, Chairman Bob Corker (R-TN) and Ranking Member Bob Menendez (D-NJ) backed a counter-amendment to require the Departments of Defense and State to report on implementation of recommendations made by SIGAR on ending the practice.
Corker said he had "major concerns" with Paul's approach, calling it unachievable.
"While I enthusiastically support the spirit of Senator Paul's amendment, and understand what he's trying to do, I have major concerns with the approach his amendment takes. It would guarantee the withdraw of U.S. support for Afghanistan by setting an unachievable standard requiring the SIGAR verification that there are zero cases of sexual slavery or the utilization of child soldiers by any unit or even individual within the Afghan military or police forces," he said.
Corker added that such a withdrawal of U.S. support would be problematic from a "broad U.S. national security standpoint," but eliminate the U.S.'s ability to try to end the practice.
Paul argued that blocking U.S. funds would provide some punishment for the practice and have some effect, whereas requiring a report would have "no effect."
"Having a report on this will have no effect, and I think essentially turns a blind eye to a horrific practice that's going on there," he said. "I think many of us here would say we should have zero tolerance for having sex slaves."
"We can't have zero tolerance for sex slaves? Sure, we should, and if there's evidence of it, they shouldn't be getting any of our money. And so I absolutely think that we need a stronger version of it, and that the second degree would gut it and make it meaningless and in essence show tacit support for allowing the practice to continue," he added.
Paul's amendment failed, while Corker's passed.
The current Leahy Law already requires U.S. military aid to be cut off to any foreign military unit implicated in gross human rights violations, which includes bacha bazi. But another U.S. law states that military aid should be provided to Afghanistan "notwithstanding any other provision of law," which has been used to evade cutting off that aid.
Quinn is not the only former service member who had been punished for trying to stop instances of bachi bazi they encountered. His fellow Army Green Beret Sgt. First Class Charles Martland was nearly discharged for participating in the beating up of the commander.
A 2015 New York Times article told the story of Marine Lance Corporal Gregory Buckley Jr., who told his father he was instructed to look the other way on bacha bazi. He was later killed by one of a group of boys living in barracks with an Afghan police commander, one floor below where the Marines slept.
Another Marine, Maj. Jason Brezler, who had known of the Afghan commander from a previous deployment was punished and nearly discharged for trying to warn a Marine unit about the same Afghan police commander, by emailing a classified report on the Afghan commander to fellow Marines over his personal email to fellow Marines who were deployed.
SIGAR earlier this year said in a report that there was no formal policy instructing troops to ignore the practice, but said the U.S.'s continuing to provide assistance to Afghan units for which there is credible information of a gross violation of human rights "undermines efforts by U.S. government officials to engage with the Afghan government on the importance of respect for human rights and rule of law."
http://feedproxy.google.com/~r/breitbart/~3/wajnPyBachs/