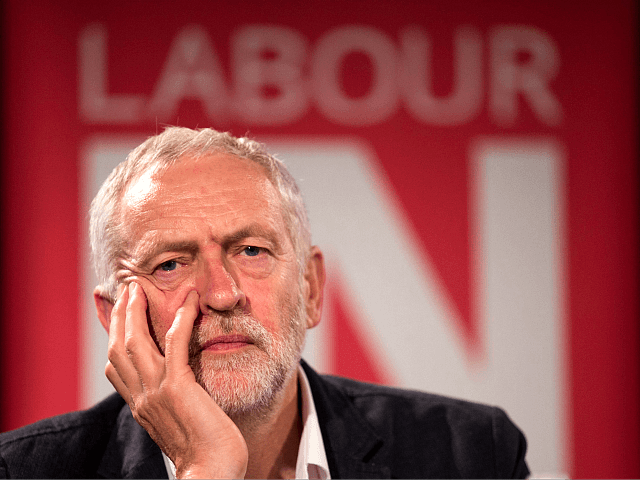 Labour leader Jeremy Corbyn has risked causing ructions within his party by slamming the European Union (EU) for its "failed neoliberal policies".
The 69-year-old socialist was a lifelong Brexiteer before he was elected Labour leader — much to the chagrin of his largely "centrist" parliamentary party — voting in favour of leaving the European Economic Community (EEC) in the 1970s, against the Maastricht Treaty which transformed the European Community into the EU in the 1990s, and against the Lisbon Treaty which handed the nascent supra-state sweeping new powers.
Corbyn officially campaigned for a Remain vote in the 2016 referendum on Britain's membership of the EU, but parliamentary colleagues and party grandees complained he had done so without much enthusiasm in the wake of the Leave vote, and even accused his inner circle of actively sabotaging the Remain campaign's efforts from within.
His recent comments to the Congress of the Party of European Socialists in Portugal will have done little to dispell that notion, as he slammed the EU for its "failed neoliberal policies [which] have caused serious hardship for working people across Europe, damaged the credibility of European social democratic parties, and played a significant role in the vote for Brexit."
Corbyn finally admits that Free Movement and mass migration "destroys conditions" for British workers. #Brexit https://t.co/QBQYrP0Rih

— Breitbart London (@BreitbartLondon) July 24, 2017
Corbyn told congress attendees that "European socialists have to fight for a different kind of Europe" both "inside" and "outside" the European Union's institutions.
He also claimed his party would "respect" the Brexit vote in the United Kingdom — a statement likely to infuriate Deputy Leader Tom Watson and much of the Parliamentary Labour Party, which is now more or less openly campaigning for a so-called "People's Vote" (second referendum) to overturn the results of both the 2016 referendum and the 2017 general election, in which both Labour and the Conservative Party stood on manifestos promising a Brexit which extracted Britain from the EU's Customs Union, Single Market, and associated Free Movement regime.
Labour once has a strong eurosceptic tradition, with heavyweight figures such as the late Tony Benn and Peter Shore arguing against European integration on the basis of it handing away the British people's sovereignty to remote and largely anonymous bureaucrats overseas, undermining the democratic accountability of the governing class to the governed.
Today, however, this tradition is only represented by a handful of Labour MPs, such as Kate Hoey, Frank Field, and Dennis Skinner.
#DejaVu…1975 Labour's Peter Shore on Project Fear#VoteLeave before 10pm tonight! #Referendumhttps://t.co/uVeo0N1cMf

— Leave.EU (@LeaveEUOfficial) June 23, 2016
Follow Jack Montgomery on Twitter:

 @JackBMontgomery
Follow Breitbart London on Facebook:

 Breitbart London
http://feedproxy.google.com/~r/breitbart/~3/UfZ3h2QhsiA/