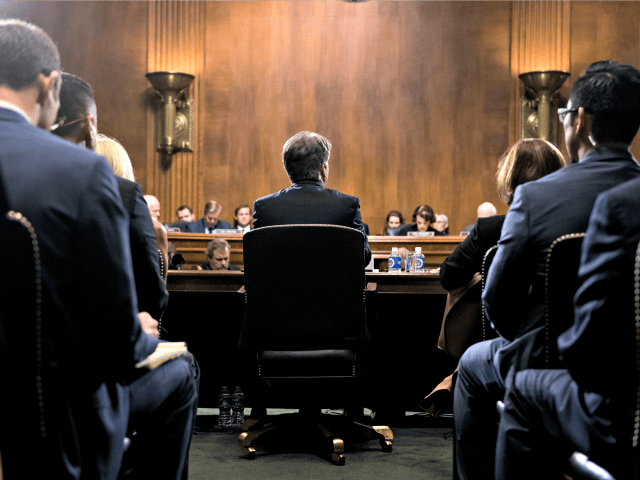 Judge Brett Kavanaugh, President Donald Trump's second nominee to the United States Supreme Court, survived a contentious hearing on Thursday in which he defended against allegations of sexual impropriety leveled at him earlier in the day by Dr. Christine Blasey Ford from more than three decades ago.
Now, in the wake of the hearing, the Senate Judiciary Committee is scheduled to vote on Friday morning on Kavanaugh's confirmation–the first in a series of three tests the federal appellate judge must pass before taking a seat among the other eight Justices on the U.S. Supreme Court.
The committee has 21 members, 11 Republicans and ten Democrats. All ten Judiciary Committee Democrats are expected to oppose Kavanaugh's nomination. Ten of the Judiciary Committee Republicans are likely or confirmed yes votes for Kavanaugh, with just one–Sen. Jeff Flake (R-AZ)–uncertain at this point, even though Flake has signaled in the direction of being in favor of the nomination.
During the contentious Thursday hearings, Flake–toward the very end of Kavanaugh's impassioned testimony, which came after Ford's earlier appearance–made brief comments suggesting he had not come down on the matter either way.
"When Dr. Ford came forward with her account, I immediately said that she should be heard and asked the chairman to delay the vote that we had scheduled," Flake said during the hearing. "The chairman did, and I appreciate that. She came, at great difficulty for her, and offered compelling testimony."
WATCH: SEN. FLAKE DURING SENATE JUDICIARY COMMITTEE HEARING:
Flake continued, addressing Kavanaugh directly:
You have come and done the same. I am sorry for what's happened to you and your family, as I am sorry for what has happened to hers. This is not a good process, but it's all we've got. I would just urge my colleagues to recognize that in the end, we are 21 very imperfect senators trying to do our best to provide advice and consent and in the end there is likely to be as much doubt as certainty going out of this room today. As we make decisions going forward, I hope people will recognize that the rhetoric that we use and in the language that we use going forward that we will recognize that there is doubt–we'll never move beyond that–and that we just have a real humility on that front.
Earlier in the hearing, Sen. Lindsey Graham (R-SC) made his own passionate plea for senators not to fall for the traps being laid by Democrats. In part of it, Graham made a plea directly to his fellow Republicans–and specifically to Flake.
WATCH SEN. GRAHAM DURING SENATE JUDICIARY COMMITTEE HEARING:
"To my Republican colleagues, if you vote no," Graham said while looking directly at Flake, "you are legitimizing the most despicable thing I have seen in my entire time in politics."
Graham was looking DIRECTLY at Flake when he said "my Republican colleagues" — Flake's arms were folded at his chest, he was looking down.

— Seung Min Kim (@seungminkim) September 27, 2018
After the hearing concluded, Flake ended up meeting with other undecided senators in the fuller U.S. Senate, from both parties. He did not announce how he intends to vote, but he did meet with Sens. Susan Collins (R-ME), Lisa Murkowski (R-AK), and Joe Manchin (D-WV).
HIGH DRAMA: Flake, Collins, Murkowski and Manchin – the senators who will determine whether Brett Kavanaugh gets a lifetime seat on the Supreme Court – are privately huddling NOW. @tedbarrettcnn

— Manu Raju (@mkraju) September 27, 2018
Susan Collins, Lisa Murkowski, Jeff Flake and Joe Manchin are all meeting NOW before the GOP conference meeting, per @tedbarrettcnn

— Phil Mattingly (@Phil_Mattingly) September 27, 2018
Flake reportedly remains split on how to vote ahead of Friday's committee vote:
SEN. FLAKE remains extremely torn about how he'll vote on Judge Kavanaugh's nomination. He says he needs to review a lot before tomorrow morning, including sworn affidavits. Flake wishes GOP didn't rush through the process so senators could have more time to analyze.

— Marianna Sotomayor (@MariannaNBCNews) September 28, 2018
But Flake also said the question is where the burden of proof lies–on the accused or the accuser. In America's judicial system, the burden is on the accuser and most certainly not the accused–meaning Flake seems to be leaning toward a yes vote:
Flake is torn: "They both did well and he offered a defense like you would expect from someone who felt that they were wrongly accused. and she offered compelling testimony as well. But I have to go with what is the standard here. Where is the burden. It's tough" @TheOtherKeppler

— Manu Raju (@mkraju) September 28, 2018
However, Sen. Chris Coons (D-DE), a Judiciary Committee Democrat, said on CNN during an interview with Chris Cuomo that "I do" believe Flake is still in play, and argued that Flake should oppose the judge's confirmation. But Coons also conceded that Manchin's vote, a key Democrat who could prove decisive in the confirmation process if he does decide to support Kavanaugh in the end, is also still in play, as Manchin keeps meeting with undecided GOP senators.
Republicans, after the undecided senators concluded their meeting, headed into a caucus meeting with the entire GOP conference, where they then emerged and announced their plans to move forward with Friday's committee vote.
Assuming Kavanaugh gets through the committee vote–to which Flake's eventual support is critical–then it would set up a timeline whereby procedural votes on the confirmation would occur over the weekend, and final confirmation would happen on the Senate floor next week.
Senators emerging from meeting say plan is to vote Friday in committee and hold first procedural vote on floor on Kavanaugh nomination Saturday, teeing up confirmation vote next week. Important note: It's not assured they have 50 votes yet but GOP leaders prepared to roll dice

— Manu Raju (@mkraju) September 28, 2018
It was after the committee vote announcement on Thursday evening from Senate Republicans that fellow undecided Republican Sen. Bob Corker (R-TN), who earlier was one of the senators who had called for what became Thursday's hearing, announced that Kavanaugh had won his vote in favor of his confirmation.
I plan to vote to confirm Judge Brett Kavanaugh. My full statement: pic.twitter.com/LDj4epYyhc

— Senator Bob Corker (@SenBobCorker) September 28, 2018
Corker's statement, as the Washington Post's Sean Sullivan noted, is a major positive indicator for Kavanaugh:
Positive indicator for Kavanaugh: Sen. Bob Corker (R-Tenn.) just announced his support. He had seemed to be moving this way as the week unfolded. Now the focus is squarely on Murkowski/Collins/Flake. pic.twitter.com/J79T17OLLm

— Sean Sullivan (@WaPoSean) September 28, 2018
Corker's statement that he will vote to confirm Judge Kavanaugh to the U.S. Supreme Court means that, assuming Flake votes yes in Friday's Judiciary Committee vote, Kavanaugh only needs one more yes vote to reach the threshold for final confirmation on the floor of the U.S. Senate next week.
Corker's confirmed yes means there are currently 48 Republicans who intend to vote yes on Kavanaugh. If he clears the committee vote on Friday, that means Flake is a yes in committee, so he will be a yes on the floor–thus Kavanaugh has 49 yes votes at that point.
Either Collins or Murkowski–or a red state Democrat like Manchin or Sens. Heidi Heitkamp (D-ND), Joe Donnelly (D-IN), Jon Tester (D-MT), Doug Jones (D-AL), or Bill Nelson (D-FL)–could end it by announcing their vote to support Kavanaugh, providing him with the requisite bare minimum 50 votes in favor of confirmation. If only 50 senators vote yes, Vice President Mike Pence will be on standby to break the tie and the nomination would succeed 51-50 in a very tight vote.
For Democrats to stop Kavanaugh on the floor at this point, they would need to hold at least two of the three remaining outstanding GOP votes–Flake, Collins, and Murkowski–back and prevent every Democrat from voting for confirmation. On the floor, if the nomination gets there, it would already need to win Flake's support in committee, so it is extraordinarily unlikely he would back it in committee and oppose it on the floor. Therefore, the Democrats could not afford for either Collins or Murkowski to support Kavanaugh.
It's also very unlikely that Democrats would be able to hold their own conference unified against Kavanaugh, given the fact that signs are already clearly emerging that Manchin is likely to vote for Kavanaugh's confirmation as he faces a tough re-election battle back home in West Virginia:
Interesting: A source close to Senator Manchin tells me now, "Short of claims that definitively prove Dr. Ford's allegations or a realization that Kavanaugh will gut the healthcare law, Manchin will side with the overwhelming number of people in WV who want Kavanaugh confirmed."

— Elaina Plott (@elainaplott) September 28, 2018
Manchin's spokesman Jonathan Kott, however, said the senator remains undecided:
Manchin spokesman Jonathan Kott: "He is one-hundred percent undecided and remains so."

— Elaina Plott (@elainaplott) September 28, 2018
Even so, it has been expected all along that Manchin would vote to confirm Kavanaugh. In fact, his GOP opponent, Attorney General Patrick Morrisey, predicted in an interview with Breitbart News that Manchin would vote to confirm him. On Thursday, a new poll emerged showing Morrisey and Manchin tied at 45 percent apiece.
Meanwhile, Murkowski has not signaled which way she is leaning yet but has said she is still considering everything:
"I'm going to go home, have dinner and have a chance to think about all that's gone on today," Murkowski said, per @jeremyherb

"It was long, it was detailed, it was very important to get it on the record"

— Manu Raju (@mkraju) September 28, 2018
But another report suggests that Donnelly, Manchin, Murkowski, and Collins will vote as a bloc:
Donnelly, Manchin, Murkowski and Collins are all expected to vote the same way, per senators and aides

— Burgess Everett (@burgessev) September 28, 2018
That means that, assuming the news that Manchin intends to vote yes is correct, Kavanaugh has the votes necessary for confirmation at this time. In other words, according to at least one report, they all intend to vote for Kavanaugh–meaning if these reports are true, he has the votes necessary for confirmation:
Sounds like they're all voting yes https://t.co/YI9dtJsCF9

— Josh Kraushaar (@HotlineJosh) September 28, 2018
Senate Majority Leader Mitch McConnell, meanwhile, has signaled the Senate is moving forward:
.@senatemajldr McConnell, per @FoxReports: "The committee is going to vote in the morning and we're going to move forward."

He did not answer when asked if Republicans had the votes. (They don't currently, but a lot can happen before Saturday.)

— Phil Mattingly (@Phil_Mattingly) September 28, 2018
McConnell also said he will "proudly" vote for Kavanaugh's confirmation in a post-hearing statement:
McConnell's stmt post-hearing: "I Will Proudly Vote to Confirm Judge Kavanaugh"

"No evidence corroborates Dr. Ford's allegation. No evidence was presented today to back it up. And all existing evidence refutes it," he says.

— Frank Thorp V (@frankthorp) September 28, 2018
MCCONNELL: FULL SENATE TO VOTE ON KAVANAUGH IN COMING DAYS

— Jennifer Jacobs (@JenniferJJacobs) September 28, 2018
McConnell's third-in-command, Sen. John Thune (R-SD), expects that the vote will pass the committee:
Sen. Thune, Senate GOP number 3, tells me he'd be "surprised" if the Judiciary Committee didn't move forward on a Kavanaugh vote tomorrow

— Phil Mattingly (@Phil_Mattingly) September 27, 2018
Assuming the vote does pass the committee, the battle is only going to get more fierce as it heads to the full U.S. Senate and all senators debate the nomination on the floor over the weekend into next week.
http://feedproxy.google.com/~r/breitbart/~3/QJA82I39JJ4/