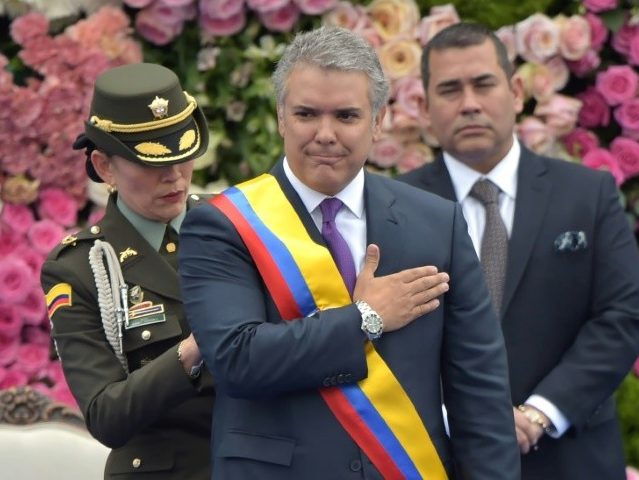 The Colombian government denied claims on Wednesday that the country is plotting an invasion of neighboring Venezuela by pressuring the incoming government in Brazil to lead it.
On Tuesday, the Brazilian newspaper Folha de Sao Paulo published a report citing diplomatic sources within the Colombian government who said President Iván Duque would be willing to support an invasion led by incoming Brazilian president Jair Bolsonaro if he decided to do so.
Colombia's Foreign Minister Carlos Holmes Trujillo issued a statement denying the report, asserting his government "rejects and denies" the claim that Colombia plans to stage a military intervention in Venezuela.
"The government of President Iván Duque maintains a non-warlike tradition and seeks, through regional and multilateral political and diplomatic actions, to help create the conditions so that sooner or later the brotherly people of Venezuela can live again in democracy and freedom," the Foreign Ministry said in a statement.
Folha published the report just days after the conservative Bolsonaro was elected President of Brazil over his socialist opponent Fernando Haddad. Bolsonaro has promised to help anti-socialist Venezuelans reclaim their country and oppose the socialist dictatorship there. Brazil and Venezuela previously enjoyed close relations during the administrations of the late Hugo Chávez and now imprisoned Luiz Inácio Lula Da Silva.
During his campaign, Bolsonaro pledged to help international efforts to liberate Venezuelans from the Maduro dictatorship, whose corruption and socialist policies have left the once thriving country in an unprecedented humanitarian crisis.
"I have had conversations with other authorities from other countries, they have brought up the subject of Venezuela, and they ask that Brazil participate in one way or another to solve the problem. After all, it is our brothers who are suffering from the dictatorship of Maduro," Bolsonaro said in an interview with Record TV on Monday.
"On our side, there is no such intention," he said when asked whether he planned to invade the country. "Brazil is always going to seek a peaceful way to solve problems."
Colombia and Brazil remain the two countries most affected by the Venezuela crisis, as thousands of migrants flee the country every day in search of work and often humanitarian assistance, causing strain on public services and community cohesion. In 2018, the two nations have elected conservative presidents, both of whom successfully used the example of Venezuela as a campaign tactic against their socialist opponents.
Growing support for a solution in Venezuela exists not just in Latin America, but in the United States, which has determined the Maduro regime as a national security threat. Maduro and senior government officials insist that the Venezuelan military is "fully prepared" for any attack on its territory, with leading socialist Diosdado Cabello claiming last week that soldiers would fight to the death to protect the country's failed 'Bolivarian Revolution.'
Follow Ben Kew on Facebook, Twitter at @ben_kew, or email him at bkew@breitbart.com.
http://feedproxy.google.com/~r/breitbart/~3/UB8rISBtazQ/