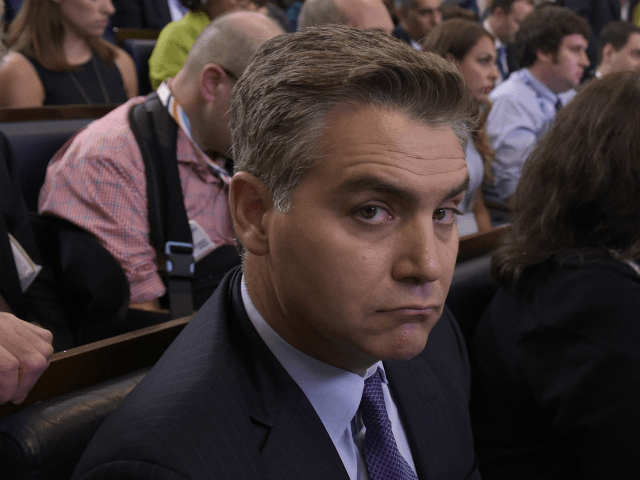 CNN's Jim Acosta took a 2015 Brett Kavanaugh joke out of context to claim Kavanaugh is hiding something from his high school days.
Far-left MSNBC has also aired the "deceptively edited" video and used it in this way, as has the far-left Politico. Sen. Elizabeth Warren (D-MA) tweeted the video out and asked, "Is this really what American wants in its next Supreme Court Justice?"
As far as CNN is concerned, there are actually two falsehoods in the segment embedded below. The first is the CNN chyron that claims the GOP is "pushing" Kavanaugh's accuser, Christine Blasey Ford, to testify before the Senate Judiciary Committee.
This is simply not true. Through her attorney, Ford had said she wanted to tell her story and the GOP is simply asking her to do so under oath. If she chooses not to, which now appears to be the case, she chooses not to.
What's more, the GOP is obviously trying to accommodate her, and has even offered to hold the hearing in a private session. The truth is that Ford has now aligned herself with Democrats in calling for a FBI investigation into her allegations, even after the FBI said local crimes are not in its jurisdiction. Many see this as a stalling tactic as Democrats hope to run out the clock until the midterms.
Acosta is even more dishonest than the chyron.
Acosta airs video of Kavanaugh giving a speech in 2015 where he jokes about "What happens at Georgetown Prep stays at Georgetown Prep." think"
After the clip, Acosta gravely informs CNN viewers that this video "is not a conclusive piece of video that says that he did anything, but it does speak to … this notion that perhaps there are portions of his childhood that he would rather not come to light."
Jim Acosta on the 2015 Kavanaugh clip (which CNN edits so it begins after the reference to his three male friends): "There are portions of his childhood he'd rather not come to light." Note how even Susan Hennessy thinks he's reaching. pic.twitter.com/swDqI2YcHh

— Tom Elliott (@tomselliott) September 18, 2018
In other words, here's a smoking gun proving Kavanaugh is covering up things he did during his high school days.
But here is what Acosta and the far-left CNN do not want you to know — that Kavanaugh was specifically referring to three of his former classmates, with whom he has remained friends. It was a laugh line (referring to the famous Las Vegas slogan) and was not in any way a "moral code."
Moreover, the friends he names are not involved in Ford's allegations. Here is the FULL context of Kavanaugh's remarks to the Columbus School of Law:
By coincidence, three classmates of mine at Georgetown Prep were graduates of this law school in 1990, and are really, really good friends of mine — [names his friends], and they were good friends of mine then and are still good friends of mine as recently as this weekend when we were all on email together. But fortunately we had a good saying that we've held firm to this day as the Dean was reminding me before the talk, which is, 'What happens at Georgetown Prep stays at Georgetown Prep.' That's been a good thing for all of us, I think.
In the past, Acosta has been caught being wildly dishonest in his attacks on Trump. Acosta regularly lies in matters both small and large.
 Follow John Nolte on Twitter @NolteNC. Follow his Facebook Page here.
http://feedproxy.google.com/~r/breitbart/~3/RPfd5eIessA/