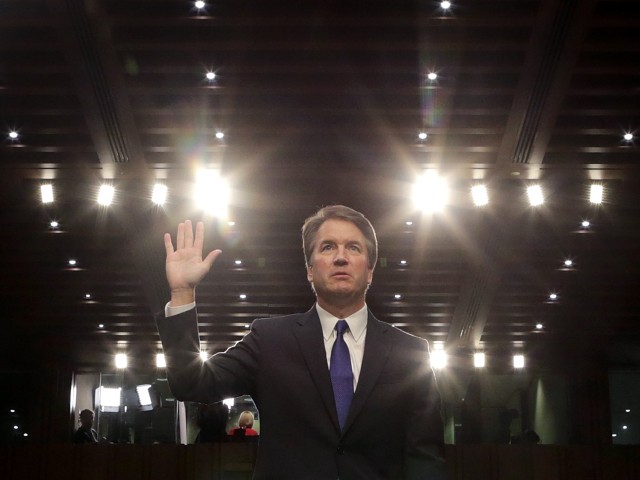 CNN legal analyst Jeffrey Toobin said on Wednesday evening that Supreme Court nominee Brett Kavanaugh will get confirmed if Christine Blasey Ford, the Northern California psychology professor who has accused Kavanaugh of sexually assaulting her when they were teenagers, does not testify before the Senate Judiciary Committee on Monday.
"If she refuses to testify on Monday, Kavanaugh is getting confirmed. Jeff Flake has said that. Susan Collins has said that," Toobin said on Anderson Cooper 360. "If she maintains that this investigation is a sham and I'm not taking part, he is getting confirmed. Now that may not unfair. That may not be a good thing, a bad thing, I think that's just factual."
Toobin added that if Ford does testify, then "all the cards are thrown up in the air."
"He may well be confirmed anyway," he continued. "But I think everybody should be clear about what the stakes are of her decision to come forward or not before the committee. It's up or down."
One of Ford's lawyers, Lisa Banks, told CNN's Cooper on Tuesday evening that Ford did not want to testify before an FBI investigation and was "not prepared" to do so before the Senate Judiciary Committee on Monday.
Senate Judiciary Committee Chairman Chuck Grassley (R-IA) gave Ford a Friday morning (10 a.m.) deadline  to decide whether she wants to testify on Monday and even offered to send committee staff to California if that would be more convenient for Ford.
On Wednesday evening, Banks, Ford's lawyer, indicated that Ford wants "multiple witnesses" to be included in the hearing.
"She continues to believe that a full non-partisan investigation of this matter is needed and she is willing to cooperate with the Committee," Banks said in a statement. "However, the Committee's stated plan to move forward with a hearing that has only two witnesses is not a fair or good faith investigation; there are multiple witnesses whose names have appeared publicly and should be included in any proceeding."
http://feedproxy.google.com/~r/breitbart/~3/I-qB9SppF0U/