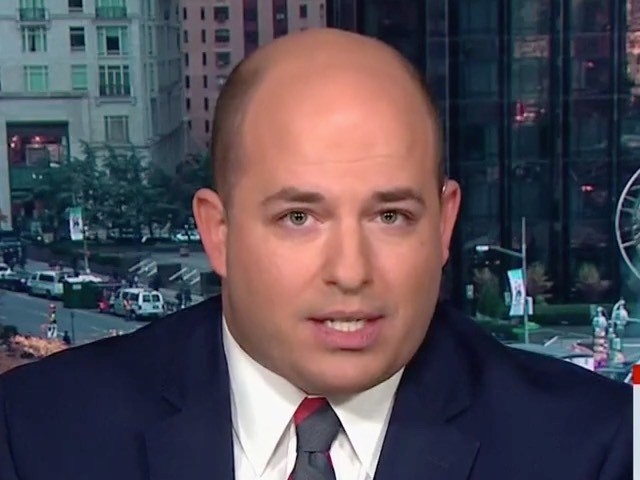 CNN host Brian Stelter tweeted that the sight of an anti-Kavanaugh protester on top of a statue outside the Supreme Court was the "most memorable image" of Saturday.
"The most memorable image of the day," Brian Stelter wrote, tweeting a gif of an angry protester waving her fist on top of a statue outside of the Supreme Court.
The most memorable image of the day. pic.twitter.com/GYAT55Kv2H

— Brian Stelter (@brianstelter) October 6, 2018
An angry crowd gathered outside the Supreme Court Saturday after the Senate voted to confirm Brett Kavanaugh to be the next Supreme Court justice. Kavanaugh was sworn in Saturday evening.
Many protesters acted unhinged. One elderly Trump supporter was surrounded by two young protesters and had his signs hit, as documented by the Daily Caller's Benny Johnson.
Look at these tolerant, progressive protesters dancing around this lone, 71 year old Trump supporter – they eventually try and rip his signs up but are stopped by organizers. pic.twitter.com/X8evmEzmzx

— Benny (@bennyjohnson) October 6, 2018
Another protester used violent rhetoric towards police:
Here is an Anti-Kavanaugh protester openly advocating killing cops at the Supreme Court.
He is screaming in police faces:
– "Fuck the pigs"
– "I'm gonna kill you"
– "I'm coming back"
– "Next time I'll bring a weapon"
– "Remember this face"
Share this for @CapitolPolice to see: pic.twitter.com/t16JmirIRO

— Benny (@bennyjohnson) October 6, 2018
Other CNN pundits have defended aggressive action by protesters before. CNN's Don Lemon recently shrugged off the harassment of Sen Ted Cruz by an Antifa group, saying, "that's what he signed up for."
"If you run for office, and you propose policies that are detrimental to people, as Americans, you have the right to tell your public officials that you don't like it. And if you're in a space where you're allowed to do that, then you can do it," Lemon said.
Meanwhile, CNN's Chris Cuomo explained Antifa violence by saying that while violence was wrong, those who were doing it to oppose "hate" were "on the side of right."
"Two wrongs and what is right. The bigots are wrong to hit. Antifa or whomever–anarchists or malcontents or the misguided–they are also wrong to hit. But fighting hate is right. And in a clash between hate and those who oppose it, those who oppose it are on the side of right," Cuomo said in August.
http://feedproxy.google.com/~r/breitbart/~3/Dd_tWKVgWL8/