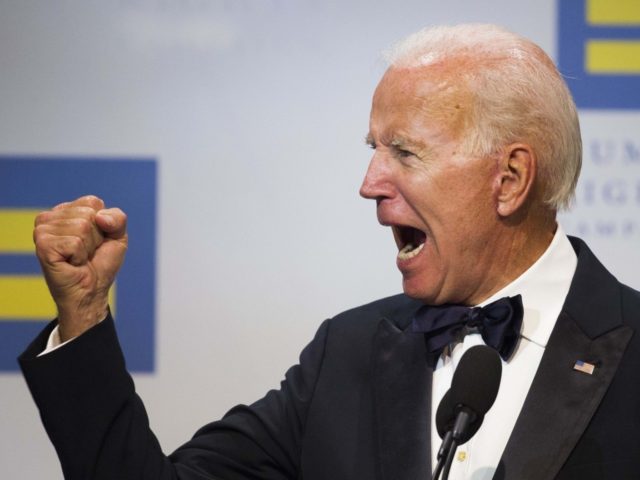 Former Vice President Joe Biden is leading the field of prospective 2020 Democratic candidates, according to a recent poll from CNN.
The CNN/SSRS poll, which surveyed 1,009 adults between October 4 and 7, found that one-third—or 33 percent—of Democrats and independents who leaned Democratic thought Biden would be the most likely to take on President Trump in the 2020 presidential election.
The first @CNN numbers for 2020 Democratic presidential nomination just released this morning:

Biden 33%
Sanders 13%
Harris 9%
Warren 8%
Booker 5%
Kerry 5%
Bloomberg 4%
O'Rourke 4%
Holder 3%
Garcetti 2%
Avenatti 1%
Gillibrand 1%
Klobuchar 1%
Patrick 1%
Bullock <1%
Delaney <1%

— Ryan Struyk (@ryanstruyk) October 14, 2018
Those polled also thought it is more likely that Trump would win a second term—46 percent of respondents said Trump would win re-election while 47 percent said he would not win re-election.
Of the other 2020 Democratic hopefuls, 13 percent of those polled thought Sen. Bernie Sanders (I-VT) would take the Democratic nomination in 2020 while 9 percent thought Sen. Kamala Harris (D-CA) would be most likely to take on Trump.
Sens. Elizabeth Warren (D-MA) and Cory Booker (D-NJ) were also on the shortlist of potential 2020 candidates, according to the poll.
The Biden bump in the polls comes as the former vice president mulls a potential third presidential bid.
If Biden decides to run, he may have to answer to explosive revelations that he and his son Hunter struck a $1.5 billion deal with the Chinese government-backed Bank of China just ten days after the vice president and his son returned from a trip to China aboard Air Force Two.
Breitbart News Senior Editor-at-Large Peter Schweizer, in his book Secret Empires: How the American Political Class Hides Corruption and Enriches Family and Friends, detailed how Biden may have helped Hunter secure the $1.5 billion deal with a China-based investment firm that had ties to a Chinese atomic energy company indicted for "nuclear power conspiracy against the United States."
"The FBI arrests and charges senior officials in this company with stealing nuclear secrets in the United States. Specifically, they're trying to get access to something called the AP-1000 nuclear reactor that is very similar to the ones that we put on U.S. submarines," Schweizer wrote.
"So again, you have the son of the vice president, a close aide to the secretary of state who are investing in a company that is trying to steal nuclear secrets in the United States. It's a stunning story, and here's the thing: none of this is required to be disclosed because they've figured out a way to get around these disclosure laws," Schweizer continued.
http://feedproxy.google.com/~r/breitbart/~3/Uikkr3ZH068/