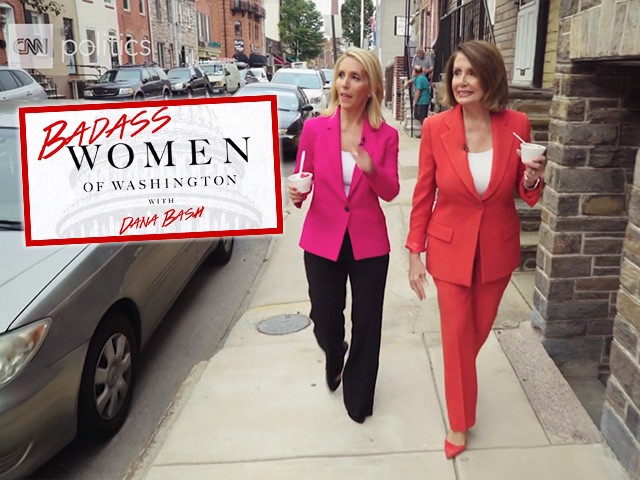 CNN declared Tuesday that House Minority Leader Nancy Pelosi (D-CA) is the "original badass woman of Washington" months before she faces a potentially messy battle to recapture the speakership.
Part of CNN's Badass Women all around Washington series, the network sat down with the embattled lawmaker for a range-ranging interview touching on everything from her upbringing in Baltimore to the role of feminism in American politics.
In many ways, Nancy Pelosi is the original Badass Woman of Washington.

There are the obvious reasons, not the least of which is her place in the history books as the first female House speaker.

But it is more than that. It is how she got there — excelling in a man's world and playing in what was traditionally a boy's club of politics — as well as, and often better than, her male counterparts.

She's had plenty of detractors and naysayers, even among Democrats. But she is seen as effective, so much so that even her political opponents — mostly men — have repeatedly told me over the years that they marvel at her leadership of her caucus.
CNN released a video version of its interview with the 76-year-old featuring slow-motion hero shots and triumphant music. Anchor Dana Bash lets the segment veer into outright hagiography, fawning throughout the narration:
"Nancy Pelosi certainly knows her power more than any other woman I've ever covered in politics, and I've always wondered, 'How?'"
"She's as strict about her chocolate as she is standing up for herself."
Pelosi reveals her male Democrat colleagues were empathic to the idea of her running for House leadership nearly two decades ago. "When people came to me and said, 'You should run for leadership,' and I agreed to look at it, then some of the men said, 'Who said she could run?' That was a real motivator," she says.
In many ways, Nancy Pelosi is the original Badass Woman of Washington https://t.co/BRqYRyF17K#BadassWomenDC with @DanaBashCNN pic.twitter.com/VWcLaHBcPt

— CNN (@CNN) November 13, 2018
Pelosi appears to blame criticism of her on her being an accomplished female legislator, claiming she receives nearly the same level of flack as a presidential candidate. "I get some names called, because if you're effective as a woman, then they have to undermine you, because that's a real threat," she says. "I'm probably more of a target than anybody, except for somebody who runs for president."
Touted as the "ultimate Republican boogeyman," Pelosi dismisses talk that she may possess the votes to secure the speakership come January. "I have a broad base of support in the country, financially, politically, and otherwise, which is valuable to our caucus," she says. "None of us is indispensable, but some of us are just better at our jobs than others," she adds matter-of-factly.
However, as Breitbart News' Matt Boyle reported Monday, Pelosi faces an uphill battle locking down the 218 required to regain the House gavel.
When all is said and done from last Tuesday's midterms–there are still nine outstanding House races–Democrats could have a majority as high as 236 seats but definitely will have at least 227. That final number is going to be critical for Democrats' hopes of securing Pelosi as speaker, as every number extra that Democrats add to the final total is an extra vote Pelosi can afford to lose.

If Republicans sweep those nine remaining races, a very unlikely outcome, and Democrats enter the new Congress with 227 votes, Pelosi can only afford to lose nine Democrats on the floor. Democrats, however, are very likely to pick up a number of the nine outstanding seats. They currently lead Republicans in four of them:  California's 10th District, New Jersey's 3rd District, New York's 22nd, and Utah's 4th District. Republicans lead Democrats in the other five: California's 39th and 45th Districts, and Georgia's 7th, as well as Maine's 2nd, and Texas's 23rd Districts.

…

[D]espite Pelosi's allies pushing the narrative that a challenger to her must emerge, that is not true. They can vote her down, and then most certainly after she would have failed to reach 218 votes on the first ballot on the House floor, then plausible challengers would emerge.
While Pelosi and her allies may think she is the best suited for the speakership, a recent poll indicates Democrats may be ready for a leadership change. According to Gallup, 56 percent of Democrats and independents who are liberal-minded want Pelosi to forgo the top leadership role she held between 2007 and 2011. The survey was undertaken between October 15 and October 28, several weeks prior to the midterm election. At least 87 Democrat candidates opted against endorsing Pelosi for the speakership while campaigning, while some outright stated they would not support her bid. Last month, Rep. Filemon Vela (D-TX) revealed at least a dozen incumbent congressmen would vote against Pelosi for the position regarding if they retook the House. 
http://feedproxy.google.com/~r/breitbart/~3/5FxkXZOMj1w/