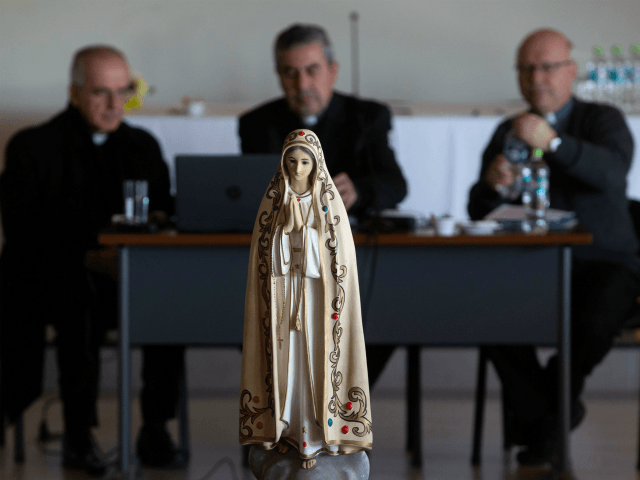 A special hotline in New Jersey to report claims of clergy sexual abuse is being flooded with calls, says a report from CBSNewYork.
The call center – which is in operation 24 hours per day – was launched last week as the office of New Jersey Attorney General Gurbir Grewal formed a new task force to investigate allegations of sexual abuse by Catholic clergy within the state and attempts to cover up the alleged abuse.
On Friday, alleged abuse survivors met with Cardinal Joseph Tobin, archbishop of Newark, at the Cathedral Basilica of the Sacred Heart.
Some of the alleged survivors reported they could not get through to the hotline because it was inundated with calls.
"It rang maybe 10 times," said Joe Capozzi. "It hung up and a message came up saying we're unable to take your call."
"I kept my secret for 20 years, and it ate me up inside," Capozzi added. "It was slowly killing me, and now being able to call up the hotline, leave your name, leave your information and let go of that secret because then you can start healing."
According to the news report, Grewal confirmed the volume of calls into the hotline has been so high it was necessary to assign additional staff.
A press release from the attorney general's office noted that he appointed former Acting Essex County Prosecutor Robert D. Laurino, an "experienced sex crimes prosecutor," to head the task force.
#Breaking: @GurbirGrewalNJ launches criminal task force to investigate allegations of sexual abuse by NJ Catholic clergy.

We have established a toll-free, 24/7 hotline to report allegations of sexual abuse by the clergy.

NJ Clergy Abuse Hotline: 855-363-6548 pic.twitter.com/Sd2u8lBjcY

— AG Gurbir Grewal (@NewJerseyOAG) September 6, 2018
Grewal has authorized the task force to present evidence to a grand jury, obtaining testimony through the use of subpoenas and by producing documentation.
"To help identify potential victims, Attorney General Grewal also has established a new dedicated hotline to report allegations of sexual abuse by members of the clergy," states the release. "The hotline will be staffed by trained professionals and operate on a 24/7 basis."
The task force was formed following the release of a Pennsylvania grand jury report alleging more than 1,000 victims of sexual abuse – most of them boys – by Roman Catholic clergy in that state over a 70-year period. The report also detailed allegations of a cover-up by church leaders and accusations of sexual abuse against four priests who served in New Jersey.
"I was deeply troubled to read the allegations contained in last month's Pennsylvania grand jury report," said Grewal, adding:
The report revealed that sexual assaults on children – and efforts to cover up such assaults – were far more widespread in Pennsylvania than we ever thought possible. We owe it to the people of New Jersey to find out whether the same thing happened here. If it did, we will take action against those responsible."
"No person is above the law and no institution is immune from accountability," he continued. "We will devote whatever resources are necessary to uncover the truth and bring justice to victims."
Attorney Greg Gianforcaro told CBSNewYork he has spoken to at least 300 alleged victims in New Jersey. He reportedly said his state's total number of alleged victims will surpass that of Pennsylvania.
"In 1958, New Jersey passed the charitable immunity legislation, that basically immunized this kind of abuse by religious clerics," Gianforcaro said on Friday. "I think under these circumstances I believe that New Jersey was a safe haven for pedophile priests."
Some of the alleged survivors said they wanted the statute of limitations for the crime eliminated, a goal to which Cardinal Tobin offered his support.
"I think a blanket question like that is hard sometimes, because you have to ask to what do statute of limitations do that we've kept them around for so long?" he said. "But I do believe there's something unique about this crime in that people often don't realize what happened to them until they are adults."
"Demand the truth, because Jesus said the truth will set us free," Tobin added.
In August, Catholic News Agency (CNA) published a report that revealed new allegations of sexual abuse of seminarians and priests by disgraced former archbishop of Newark Theodore McCarrick and others in ministry within the archdiocese. The story featured the reports of six priests of the Newark archdiocese, who spoke to CNA under the condition of anonymity, regarding incidents that occurred while the archdiocese was under the leadership of both McCarrick and, later, Archbishop John J. Myers.
The stories of the six priests help to confirm the existence of an activist gay culture in seminaries and among the Church's hierarchy. Their report was followed by the release of a letter, written by Archbishop Carlo Viganò, the Vatican's former ambassador to the United States, who linked the sexual abuse scandal, as well as ensuing coverups by some bishops, to an extensive "homosexual network" within the Church.
In his letter, Viganò charged that, as the papal nuncio to the United States, he personally informed Pope Francis of former Cardinal Theodore McCarrick's sexual abuse of priests, seminarians, and minors on June 23, 2013 – three months after the College of Cardinals had elected Francis as pope. The pontiff, nevertheless, "continued to cover for [McCarrick]," Viganò charged.
The former nuncio wrote that, despite being aware of McCarrick's abusive history, Pope Francis "did not take into account the sanctions that Pope Benedict had imposed on [McCarrick] and made him his trusted counselor."
Viganò also attributed a number of important papal appointments in the United States—including those of Cardinals Blase Cupich in Chicago and Tobin in Newark—to McCarrick's influence over Pope Francis.
"The appointments of Blase Cupich to Chicago and Joseph W. Tobin to Newark were orchestrated by McCarrick, Maradiaga and Wuerl, united by a wicked pact of abuses by the first, and at least a coverup of abuses by the other two," Viganò said.
Tobin was made a cardinal by Pope Francis in 2016.
In his letter, Viganò has called upon Pope Francis to resign his office.
Catholic News Service (CNS) has since reported its receipt of a letter confirming that Vatican officials knew of allegations against McCarrick in 2000.
Following the CNA article about the report of the six anonymous priests, Tobin said he has no knowledge of a "gay subculture" within the archdiocese. The cardinal also instructed priests of the Newark archdiocese not to speak to the media about sexual misconduct.
In May 2017, Tobin personally hosted an "LGBT Pilgrimage" at his cathedral, which organized the event in conjunction with an LGBT advocacy group.
http://feedproxy.google.com/~r/breitbart/~3/04e_TjhmElQ/