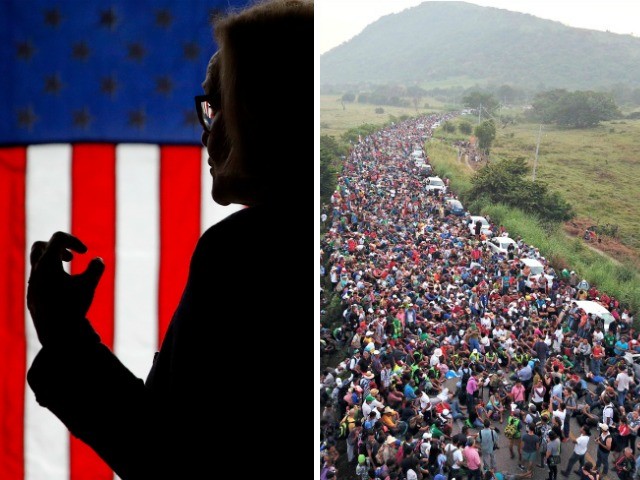 Sen. Claire McCaskill (D-MO) has most recently shifted gears on immigration, talking tough on border issues, although months ago the lawmaker co-sponsored legislation to end all immigration enforcement.
During an interview with Fox News this week, McCaskill said she supports President Trump's efforts to stop a migrant caravan of at least 7,000 to 10,000 Central Americans.
"I think the president has to use every tool he has at his disposal, and I 100 percent back him up on that, whether it is turning them back because we are not equipped to handle that many asylum claims into our system," McCaskill said. "I do not want our borders overrun and I support the president's efforts to make sure they're not."
McCaskill's tough rhetoric on the border comes at the same time of her re-election bid, where she faces a tough challenge from Republican candidate Josh Hawley.
Aside from McCaskill's F rating from NumbersUSA — indicating she supports amnesty, more legal immigration, and more importation of foreign workers — less than six months ago, McCaskill co-sponsored Sen. Dianne Feinstein's (D-CA) open borders legislation that would end all immigration enforcement across the United States.
Watch–Trump: 'Tidal Wave' of Illegal Immigration, Crime Coming If Democrats Win Midtermshttps://t.co/HXSeS4K7rx

— John Binder 👽 (@JxhnBinder) October 7, 2018
McCaskill joined every Senate Democrat in co-sponsoring the legislation which would, as Breitbart News noted, prevent nearly every federal arrest at both the country's northern and southern border.
Feinstein's legislation would also mandate that all children traveling with illegal alien adults across the border be kept with those border crossers, a plan that would force federal immigration officials to release the border crossing adult-child unit into the interior of the U.S.
Sen. Tom Cotton (R-AR) previously called the Feinstein legislation "Child Trafficking Encouragement Act," as it allows human smugglers to stay with the children they have trafficked at the border.
McCaskill and Hawley are in a dead heat — like many other races across the country — despite the Democrat lawmaker's attempt to align herself with Trump on immigration.
John Binder is a reporter for Breitbart News. Follow him on Twitter at @JxhnBinder. 
http://feedproxy.google.com/~r/breitbart/~3/mR67yIwY6go/