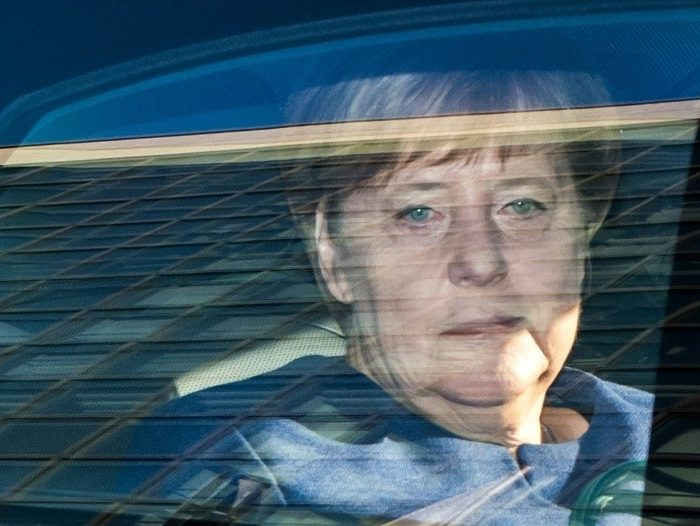 Germany's Chancellor Angela Merkel is to relinquish control of the Christian Democratic Union (CDU) in December, sources have claimed, after yet another humiliating performance in a regional election Sunday.
News agency DPA cited unnamed sources within Germany's ruling party on Monday morning that Dr Merkel, who has led the CDU since 2000 and has been Chancellor since 2005, would be stepping down in December in time for party conference.
Although the CDU would then select a new leader, Dr Merkel is expected to attempt to stay on as Chancellor — Germany's Prime Minister equivalent position — until the next national elections in 2021. This, Associated Press reports, is to give her successor enough time to build a profile as the leader but without handing over the reigns of the nation which Merkel has held for 13 years.
Merkel's CDU and SPD Coalition Partners Hammered in German Regional Election https://t.co/qDeoZ26MPW

— Breitbart London (@BreitbartLondon) October 28, 2018
The claim comes just hours after results came in for the latest German local elections which saw both Merkel's CDU and her national coalition partner the Social Democrats (SDP) hammered. While the two parties — giants which have dominated Germany's political scene since the Second World War — limped home in first and second places respectively, they were followed closely by the insurgent Green and populist Alternative for Germany (AfD) parties.
The CDU vote fell 11.3 per cent compared to the last elections in 2013. In some Hessian regions, the vote fell by nearly 18 per cent on Sunday.
Losing ground to their non-mainstream rivals in a series of recent elections, including Local votes in Hesse and Bavaria and the national election last year has been viewed as unacceptable by many in a nation which has until recently instinctively tied itself to the centre ground. This position has allowed the so-called grand coalition which presently rules Germany, an alliance between the main centre-right CDU and main centre-left SPD, from parties which should, in theory, be opposed on government but are united in keeping other voices out of power.
Pyrrhic victory in Germany https://t.co/Na5BhgBCmW

— Breitbart London (@BreitbartLondon) September 25, 2017
A number of potential successors to the Merkel throne have already been named in German media, with Die Welt including leading conservative Friedrich Merz — who Merkel ousted from a party leadership position in 2002 — and CDU Secretary-General Annegret Kramp-Karrenbauer.
Oliver JJ Lane is the editor of Breitbart London — Follow him on Twitter and Facebook
http://feedproxy.google.com/~r/breitbart/~3/zCTMbHyjnG8/