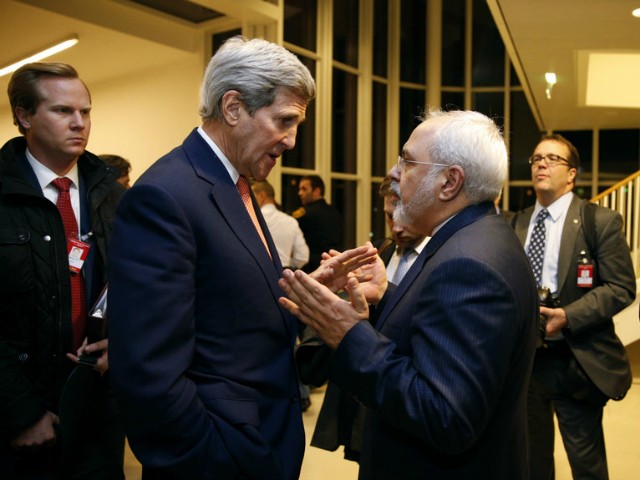 Richard Goldberg, the Republican political operative who helped coordinate opposition to the Iran deal on Capitol Hill, claimed Saturday evening that former Obama administration officials were trying to devise ways to help Europe evade sanctions on Iran.
Goldberg was reacting to former Secretary of State John Kerry's admission last week that he had been meeting with Iranian foreign minister Javad Zarif in an effort to persuade Iran to stick with the now-defunct Iran nuclear deal, which President Donald Trump withdrew from in May.
Though Kerry's successor, Secretary of State Mike Pompeo, blasted his freelance diplomacy as "beyond inappropriate," and others have suggested he had violated the Logan Act — the same archaic legislation once used as a pretext to spy on incoming National Security Adviser Michael Flynn — Kerry's allies from the Obama administration rallied to his defense.
In response, Goldberg tweeted that he had heard from his sources in Europe that Obama alumni were advising European governments about how to evade new U.S. sanctions against Iran:
I have been told by banking officials in Europe that former senior Obama officials worked with European officials to design sanctions evasion schemes. This effort was likely closely coordinated with the Islamic Republic. Hard to imagine Kerry didn't discuss these efforts as well. https://t.co/jzMgZ9avbS

— Richard Goldberg (@rich_goldberg) September 16, 2018
The new sanctions, which go into full effect in November, effectively force European banking institutions to choose between doing business with Iran and doing business with the U.S.
It is not clear which officials Goldberg was referring to, but Kerry has been openly working to salvage the nuclear deal — the signature foreign policy achievement of the Obama administration — and to oppose the Trump administration's policy toward the regime, even as Iran faces new political and economic pressures that could force it back to the negotiating table.
Earlier in 2018, Kerry was reported to have met with Iranian officials to work together on stopping President Trump from withdrawing from the nuclear deal.
In 2016, while still in office, Kerry encouraged European banks to do business with Iran, ostensibly to shore up the Iran deal.
In the past few months — and especially since the appointment of Richard Grenell as U.S. ambassador to Germany — several European companies have pulled out of Iran.
Joel B. Pollak is Senior Editor-at-Large at Breitbart News. He is a winner of the 2018 Robert Novak Journalism Alumni Fellowship. He is also the co-author of How Trump Won: The Inside Story of a Revolution, which is available from Regnery. Follow him on Twitter at @joelpollak.
http://feedproxy.google.com/~r/breitbart/~3/IeHXKTLC0Go/