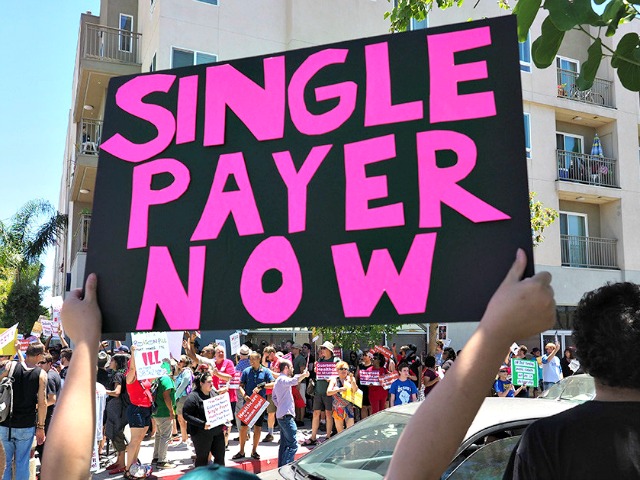 Public-sector unions in New York City are fighting a bill that would put the state in charge of health insurance for all New York State residents.
The battle is highlighting a split within the Democrat Party, as unions argue the expansive legislation – with universal coverage for illegal aliens – will cut into their benefits and negotiating power.
A report in Politico notes city labor leaders met with the sponsors of the New York Health Act, Assemblyman Richard Gottfried and state Sen. Gustavo Rivera:
The lawmakers say they are now revising the legislation to address the unions' concerns, namely that the city's insurance options for its 380,000-employee workforce would not be reduced. City government offers some plans that cover virtually all employee costs, but the Albany bill has a provision that would charge workers a portion of the state tax used to pay for the $311 billion initiative.
The amended bill, Gottfried said, would provide more services covered, including prescription drugs.
"There will be no deductibles or co-pays, there will be no restrictive network and no out-of-network charges," the lawmaker added.
During the last four years, the bill has passed the Democrat-led Assembly, but died in the Republican-controlled state Senate. Now, with Democrats taking control of the state Senate, the measure is expected to have a much better chance of reaching Governor Andrew Cuomo's desk.
Cuomo has signaled he likes the idea of single-payer health care, calling it an "exciting possibility," but says he would like it better if it were accomplished on a federal level.
"If they were to pass it and it was not incongruous with what the federal government would do to us, I think it's a very exciting possibility," the governor said, reported the Times Union in September 2017. "But I think it's going to be a federal play. Our funding system basically relies on Medicaid from the feds. If they turn off that valve or slow that valve, there is no way we're going to be able to make that up in this state no matter what."
In August, Politico reported that single-payer health insurance in New York State "would provide universal insurance coverage with no copays, deductibles or premiums for all New Yorkers, regardless of immigration status," according to a study by the RAND Corporation.
The study asserted single-payer health insurance in the state would save the system $15 billion by 2031. The plan, however, depends on $139 billion in new state tax revenue by 2022 – 156 percent more than what the state collects now. The new tax revenue would embody the principle of redistribution of wealth and come in the form of increased income and payroll taxes on employers and individuals.
According to a tax schedule proposed by RAND, a household reporting $150,000 in income would see its state tax rate jump from 6.45 percent in 2017 to 18.3 percent – a prospect Gottfried praised as a "triumph" because high-income earners would be taxed to protect low-income individuals.
The RAND study also assumes that every New York State resident would participate in the single-payer system and that private companies in the state would be mandated to drop employee health insurance and pay 80 percent of the payroll tax.
The RAND model further assumes that costs for hospital and physician services – most of which are currently private in the state – would grow according to the public sector trend.
If private services continue as they are, a single-payer system would end up costing an additional 2.6 percent by 2031.
"A key assumption behind this result is continued restraint in the growth of provider payment rates," the RAND report said.
http://feedproxy.google.com/~r/breitbart/~3/fiT-mkhyD5g/