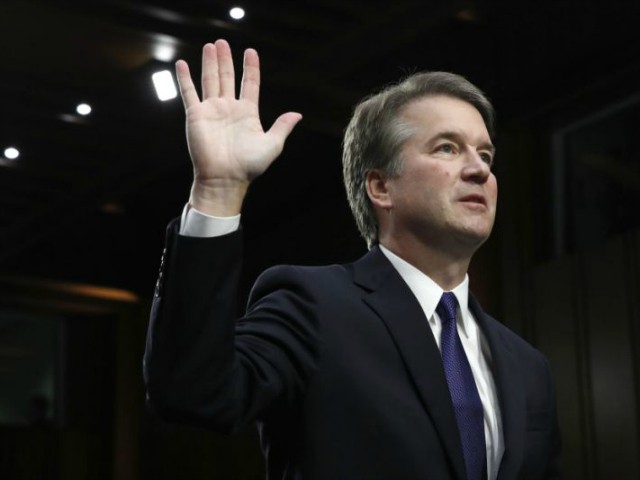 Senate Judiciary Committee chairman Chuck Grassley (R-IA) said Tuesday that the committee's hearing on Monday with Supreme Court Justice nominee Brett Kavanaugh and Christine Blasey Ford, who now accuses Kavanaugh of sexual assault in high school, may be canceled if Ford does not testify.
Grassley (R-IA) said during a hearing with radio host Hugh Hewitt that his staff has continued to reach out to Ford over the last 36 hours but is still waiting for a response to find out if she will testify publicly regarding her sexual assault allegation against Supreme Court nominee Judge Brett Kavanaugh.
Grassley said, "We have reached out to her in the last 36 hours three or four times by email, and we have not heard from them, so it kind of raises the question do they want to come to the public hearing or not."
The Iowa senator added that he hopes Ford would come to the hearing on Monday. Asked by reporters if the Judiciary Committee would hold a high-profile, televised hearing if Ford did not testify, the committee chairman suggested the hearing would be pointless without her attendance.
Chairman Grassley asked rhetorically, "Do they want to have the hearing or not? We're delaying the vote strictly to get all the facts out on the table. What would be the purpose of the hearing if Dr. Ford doesn't want to respond?"
The Judiciary Committee revealed on Monday that it will hold a public hearing with Kavanaugh and Ford next week to investigate Ford's accusation that Kavanaugh attempted to sexually assault her when they were both in high school in the 1980s.
Kavanaugh continues to emphatically deny Ford's allegation.
"This is a completely false allegation," Kavanaugh said in a statement on Monday. "I have never done anything like what the accuser describes– to her or to anyone":
NEW: Statement from Judge Brett Kavanaugh: pic.twitter.com/lHXrotm1eA

— Fin Gomez (@finnygo) September 17, 2018
The White House and the Senate Judiciary Committee have continued to back Kavanaugh despite the accusation against him. The Supreme Court justice nominee said he was willing to testify before the committee next week.
Raj Shah, White House principal deputy press secretary, said in a statement on Sunday, "As the [Post] story notes, we are standing with Judge Kavanaugh's denials."
The Senate Judiciary Committee also backed Kavanaugh in a statement on Sunday, saying, "It's disturbing that these uncorroborated allegations from more than 35 years ago, during high school, would surface on the eve of a committee vote after Democrats sat on them since July."
Sen. Majority Whip John Cornyn (R-TX) chastised Democrats in a statement on Monday, saying, "That Democrats have so egregiously mishandled this up until now is no excuse for us to do the same":
New from @JohnCornyn, who says "That Democrats have so egregiously mishandled this up until now is no excuse for us to do the same." pic.twitter.com/CwK8qrS3e2

— Seung Min Kim (@seungminkim) September 17, 2018
When reporters asked chairman Grassley if the Senate Judiciary Committee would hold a second hearing if Ford could not appear on Monday, he said Republicans are "taking things step by step."
"I don't know why you would need more time. She wants to talk to us. She told us she wanted to talk to us and you think the sooner, the better," Grassley added.
http://feedproxy.google.com/~r/breitbart/~3/DXxi80ECR4s/