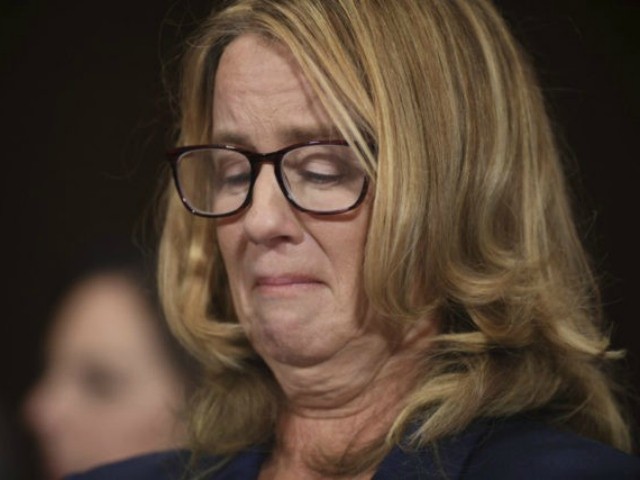 California psychology Professor Christine Blasey Ford testified before the Judiciary Committee Thursday that she believed Supreme Court nominee Brett Kavanaugh was going to "accidentally" kill her during an alleged incident of sexual assault.
In her prepared statement before lawmakers, Ford said, "Brett groped me and tried to take off my clothes. He had a hard time because he was so drunk and because I was wearing a one-piece bathing suit under my clothes.
"I believed he was going to rape me. I tried to yell for help. When I did, Brett put his hand over my mouth to stop me from screaming," the professor continued.
"This was what terrified me the most and has had the most lasting impact on my life. It was hard for me to breathe, and I thought that Brett was accidentally going to kill me," she added.
Ford testified she did not reveal the alleged incident to her parents, citing concerns they would react angrily that she attended a house party where alcohol was present. Further, the professor, who did not file a police report following the alleged misconduct, contended she only first detailed the incident during a couples' therapy session in May 2012.
Ford alleges that Kavanaugh, along with his friend Mike Judge, forced her into a room and groped her at a house party in Maryland around 1982, an accusation all named witnesses deny any knowledge of.
With his wife, Ashley, by his side, Judge Kavanaugh denied the allegation in a sit-down interview with Fox News's Martha MacCallum on Monday and called for a "fair process" in which he could defend his integrity against the claims.
"I've never sexually assaulted anyone, in high school or otherwise," President Donald Trump's Supreme Court nominee affirmed to MacCallum. "I am not questioning, and have not questioned, that perhaps Dr. Ford, at some point in her life, was sexually assaulted by someone, in some place. But what I know is I've never sexually assaulted anyone."
http://feedproxy.google.com/~r/breitbart/~3/_APeFhg7_2w/