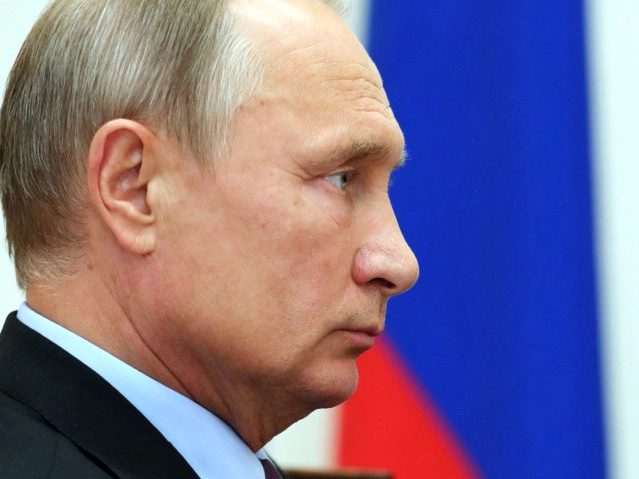 Russian President Vladimir Putin, during his visit to India today, is expected to finalize a multi-billion dollar arms deal with New Delhi, triggering concern in the United Staes and China.
Both nations have been trying to improve ties with India in recent months.
India will likely be signing an agreement to purchase the advanced S-400 air defense system despite U.S. warnings of sanctions against countries that buy Russia military hardware.
U.S. Donald Trump's administration has explicitly urged its ally India against buying the S-400 Triumf missile system.
New Delhi is expected to request a special waiver from the U.S. for the purchase, but it remains unclear whether the Trump administration, which believes the S-400 could access sensitive military technology, will accede.
The agreement to buy the missile defense system reportedly stems from a weapons deal reached by Russia and India in late 2016
New Delhi wants the system to enhance its air defense amid its rivalry with neighboring China, which already owns the S-400, and Pakistan.
"Experts say India needs the sophisticated S-400 system to fill critical gaps in its defense capabilities, in view of China's rise and perceived threats from Pakistan, against whom India has fought three wars," the Agence France-Presse (AFP) agency reported Thursday.
The purchase of the S-400 and the 36 Rafale fighter jets bought from France amount to a"booster dose" for New Delhi, Indian Air Force Chief Birender Singh Dhanoa declared on Wednesday, according to AFP.
On Thursday, the news outlet noted:
The US is in a difficult position as it seeks to contain China through better ties with India, which like Washington has been unnerved by Beijing's growing assertiveness.
Washington and New Delhi announced plans last month for joint military drills in 2019, and agreed on the exchange of sensitive military information.
But Russia remains India's main arms supplier, and a string of new deals with the Asian giant would be a major win for Moscow – and a big snub to the US.
The South China Morning Post (SCMP) also noted that the India-Russia agreement had raised eyebrows in both the United States and China.
"Putin's visit to India will be watched closely not just by Washington, but probably also by Beijing. His trip comes at a time when Russia and China are strengthening ties with each other," SCMP reported.
Indian Prime Minister Modi and Putin are also likely to discuss other deals, namely the potential purchase of four Russian Krivak-class frigates worth $2 billion and 200 light utility Ka-226 helicopters valued at $1 billion, AFP pointed out.
"Russian President Vladimir Putin will begin his two-day visit to India today, with agreements on defense, trade, and space technology on the agenda, along with discussions over the military transition in Afghanistan," SCMP acknowledged.
Under the Countering America's Adversaries Through Sanctions Act approved by Congress last July, President Trump has the power to impose sanctions on countries that procure military equipment from individual companies in Russia, Iran, and North Korea, including the S-400 maker.
Nevertheless, an amendment to the act allows Trump to grant waivers on a case-by-case basis.
Russia remains India's top weapons supplier, and the United States is number two.
http://feedproxy.google.com/~r/breitbart/~3/bCf7VW8F5z4/