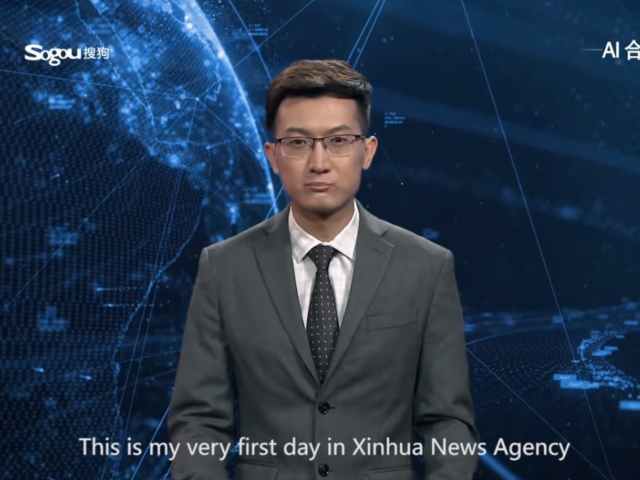 Xinhua, a news agency owned and controlled by the Chinese government, has revealed an artificial intelligence news anchor modeled on a real-life anchor at the agency.
"Hello everyone. I'm an English artificial intelligence anchor. This is my very first day in Xinhua News Agency. My voice and appearance are modelled on Zhang Zhao, a real anchor with Xinhua," declared the A.I. anchor in a video released by Xinhua. "The development of the media industry calls for continuous innovation and deep integration with the international advanced technologies. I will work tirelessly to keep you informed as texts will be typed into my system uninterrupted. I look forward to bringing you the brand new news experiences."
Xinhua's first English #AI anchor makes debut at the World Internet Conference that opens in Wuzhen, China Wednesday pic.twitter.com/HOkWnnfHdW

— China Xinhua News (@XHNews) November 7, 2018
Xinhua also demonstrated the A.I. anchor in a short video which showed it reporting the news.
"AI anchors have officially become members of the Xinhua News Agency reporting team," proclaimed Xinhua in a statement. "They will work with other anchors to bring you authoritative, timely and accurate news information in both Chinese and English."
According to the South China Morning Post, the "AI anchors are now available throughout Xinhua's internet and mobile platforms such as its official Chinese and English apps, WeChat public account, and online TV webpage."
Many people have expressed concern over the new technology, however, noting both China's record of censorship and the possibility that artificial intelligence could put human news anchors out of work.
China's state propaganda machine debuts an AI "news anchor."
We already live in the Orwellian world with an AI-domination twist. pic.twitter.com/446G3eNDNg

— Maxim Eristavi (@MaximEristavi) November 8, 2018
Speaking of China — state propaganda media has just debuted what it says is the world's first artificial intelligence (AI) news anchor… I think Anderson Cooper's gonna keep his job 😆… But this is creepy AF. HT @ananthkrishnan pic.twitter.com/GW1vF7fOYR

— Melissa Chan (@melissakchan) November 9, 2018
"The idea behind an AI newsreader is that news can be delivered 24/7 without suffering spiraling production costs. Reading between the lines, that would suggest there's potential for the AI news readers to push their human counterparts out of their jobs," claimed the Inquirer's Roland Moore-Colyer. "But that situation will likely need the tech to advance a few steps first."
"A more immediately worrying aspect is that virtual news readers could be yet another step down the route of delivering fake news and propaganda," continued Moore-Colyer. "China's news outlets are already subject to a lot of state control and censorship, so the ability to have virtual news readers to effectively do exactly what it's told is certainly an eyebrow-raising concept."
http://feedproxy.google.com/~r/breitbart/~3/6U2KbdgnPig/