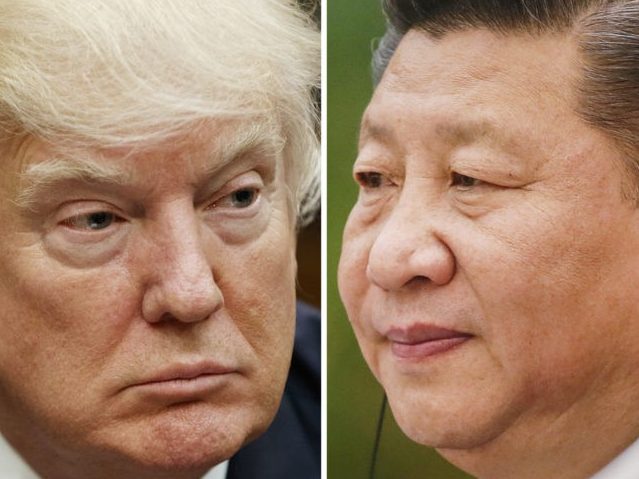 China is not sitting the Khashoggi imbroglio out. On Tuesday, the state-run
Global Times
declared Jamal Khashoggi's disappearance after visiting the Saudi consulate in Istanbul is a test of America's commitment to human rights.
The Chinese editorialists relished the opportunity to throw human rights language back in America's face, claiming the cautious response of the Trump administration to Khashoggi's possible abduction or murder proves American complaints about Chinese oppression are entirely hypocritical:
US President Donald Trump's attitude is intriguing to contemplate. On the one hand, he promised "severe punishment" if Saudi Arabian government's involvement in the journalist's death is confirmed. But on the other, he said he does not favor stopping arms sales to Saudi Arabia. After a phone call with King Salman bin Abdulaziz, Trump suggested "rogue killers" were to blame.

The crisis has shown how human rights issues are positioned in the diplomatic arena. Killing a journalist for political reasons touches the bottom line of individual rights and causes wide resonance beyond national borders. It deals a devastating blow to the reputation of Saudi Arabia.

The development of human rights is an integral part of modernization. It must be acknowledged that different countries have different priorities in developing human rights.

Western countries have conducted "human rights diplomacy" against many non-Western countries on different occasions and to a varying degree.

It is hard for Saudi Arabia to defend itself this time. The price it will pay depends on whether the Trump administration will let it off the hook for the sake of US commercial interests and geopolitical calculations. It's highly likely the Trump administration will do so.
The Global Times taunted U.S. policymakers by suggesting Saudi complicity in Khashoggi's disappearance must be punished as severely as Russia's attempted murder of former spy Sergei Skripal in the U.K. with chemical weapons.
"The case shows that there are double, even multiple standards for the West's human rights diplomacy. Non-Western countries should develop human rights. At the same time they should build strength to win more initiative to deal with human rights diplomacy," the Chinese editorialists sniffed.
Even as the Global Times delivered this lecture on human rights sincerity, the South China Morning Post was quoting analysts who found China eager to step into the breach as Saudi Arabia's superpower patron and arms supplier, should the Khashoggi incident irreparably damage relations between Washington and Riyadh:
The Arab nation could turn to countries such as China and Russia to help fulfil its military needs if US sanctions were imposed, a step that would "create an economic disaster that would rock the entire world", according to a widely cited opinion piece by the general manager of the Saudi-owned Al Arabiya news channel.

In the editorial, Turki Aldakhil said Saudi Arabia – the world's largest oil exporter – was considering more than 30 countermeasures to be taken against the US, including trading oil in yuan instead of the US dollar.
China presently exports on a fraction of the arms sold by America to Saudi Arabia, but China is actually Saudi Arabia's largest trading partner. Beijing and Riyadh signed a $65 billion package of deals in March. The economic ties between the two countries would grow even deeper if the U.S. imposed sanctions over Khashoggi and the Saudis retaliated, as they have threatened to do.
Several analysts quoted by the SCMP said China would only hold off on exploiting a U.S.-Saudi rift to increase its trade with Saudi Arabia because it would hesitate to anger the United States by moving too aggressively.
Military analysts explained to USA Today that years of investing in American arms would make it very difficult for the Saudis to switch over to Chinese or Russian hardware because it would not interface well with the huge amount of U.S. equipment in the Saudi inventory. This consideration would clearly be less of a factor in Saudi decision-making if the United States unilaterally cuts off Saudi arms sales, leaving Riyadh little choice but to make its purchases elsewhere.
Variety said on Tuesday that one American industry with a heavy Chinese footprint is already shunning Saudi Arabia over Khashoggi's disappearance: Hollywood:
The industry had been cultivating a bond with Mohammed bin Salman, the 33-year-old crown prince who controls billions of dollars of sovereign oil wealth. The barons of entertainment had fully bought into the prince's vision of a modernized Saudi Arabia, which includes spending $10 billion on film production and opening hundreds of cinemas in the Middle East's largest economy.

But that bond has been badly damaged by Khashoggi's Oct. 2 disappearance after entering the Saudi consulate in Istanbul. Khashoggi was living in exile in Virginia and writing harsh columns about the Saudi regime in The Washington Post. The Turkish government claimed that Khashoggi was killed and dismembered, while CNN reported Oct. 15 that Saudi Arabia was preparing to admit that he had died in an interrogation gone bad.

If true, it would be hard for the high-profile entertainment business to sustain ties to the kingdom. Also on Oct. 15, Endeavor was looking for ways to return its $400 million investment from the Saudi Public Investment Fund. (The fund is also an investor in Penske Media Corporation, the parent company of Variety.) Such a move would be fraught with legal entanglements. Speaking onstage at Mipcom in Cannes on Oct. 15, Endeavor CEO Ari Emanuel said the Khashoggi situation was "very, very concerning."
Variety noted Crown Prince bin Salman shared China's enthusiasm for investing in American and European entertainment media to burnish his country's reputation abroad and boost the media industry in his own country. When he floated into Hollywood six months ago on a cloud of Saudi money, the prince was treated like … well, like a prince:
His entourage bought out the entire Four Seasons Hotel in Los Angeles and dined in Bel Air at Rupert Murdoch's Moraga Vineyards with James Cameron, Dwayne Johnson and Bob Iger, among others. The prince met Kobe Bryant at Brian Grazer's home and talked about Snapchat with co-founder Evan Spiegel.

Saudi Arabia's human rights record was not on the agenda. The only dissenting voices came from the Code Pink demonstrators outside Endeavor's offices. That aside, the mood of the visit was celebratory.
The recent liberalization of Saudi media laws created a growth opportunity for Hollywood similar to the opening of China's enormous media market, albeit on a much smaller scale, beginning with a couple of movie theaters in Riyadh but hopefully expanding to hundreds of theaters of the next ten years. If New York and Los Angeles back away from Saudi Arabia over Khashoggi, an opening might be created for Beijing to step in.
http://feedproxy.google.com/~r/breitbart/~3/R7teYxUeCOc/