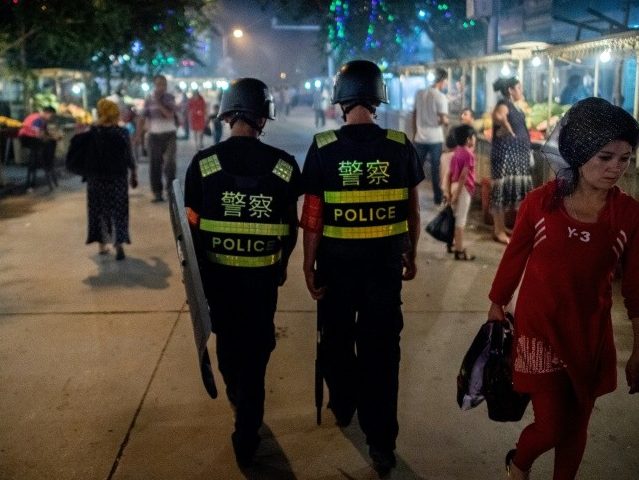 Chinese students and university alumni on Tuesday expressed alarm over the disappearance of more than a dozen young labor activists last weekend. Eyewitness accounts say the police and, at least on one occasion, unidentified black-clad men kidnapped them.
According to a statement from the Jasic Workers Support Group (JWSG), police arrested and assaulted a number of their members in simultaneous operations at college campuses in Beijing, Shenzhen, Guangzhou, and Shanghai on Friday evening. The government has also deleted their social media accounts.
The most dramatic accounts came from Peking University, where several students said a squad of black-clad mystery men beat them, threw them to the ground, and kicked them, dragging one of them into a car and driving away. The Jasic Workers Support Group implied that some of the witnesses who reported the kidnapping have gone into seclusion for their own safety.
Peking University responded to the reports of a kidnapping by insisting the incident was merely the "police department lawfully taking into custody a criminal suspect." The university said this individual was not a "current student, teacher, or employee of the school."
The JWSG statement claimed police in Guangdong province "violently broke into the dormitories of members" and "took away our comrades."
Members of the JWSG are no strangers to the inside of Chinese prison cells. Police have conducted raids against the group for months, largely on the grounds that its protest activities are unacceptably disruptive. Other activist groups have complained about the rough treatment given to Jasic campaigners, often held in jail or placed under house arrest without due process.
Oppression is nothing new in Communist China, but the twist is that JWSG and other student groups recently hit by crackdowns are avid Marxists. Hardcore anti-business activism has become inconvenient for Communist Party leader Xi Jinping's corporatist agenda. His philosophy has much more in common with early 20th Century industrial fascism than Marxism, and his goals depend on wooing foreign companies for big business deals that bring then inexorably under Chinese control. It is necessary for Xi to trim China's Marxist sails to accomplish these goals, so a number of bewildered true believers in communist fundamentalism suddenly find themselves in jail.
Xi and his government have tried to suppress the Chinese labor movement for years, intimidating workers away from grassroots trade unions and forcing them into government-administered trade federations that do a better job of controlling disgruntled workers than representing them. Beijing has denounced grassroots labor groups as foreign conspiracies to "sabotage the unity of the working class."
"What have we been doing in the Marxism Research Club? We only read Marxist works. What is wrong about that?" a protester asked at Nanjing University a few weeks ago, summing up the angry confusion of Little Red Book purists who suddenly find themselves tailed by plainclothes police officers.
The government still forces citizens to revere the author of that fabled communist tract, Chairman Mao Tse-tung, as a titan of Chinese history on par with the all-powerful Xi Jinping, but Xi's officials are reportedly quietly worried about Mao becoming a figurehead for the poor and alienated, so they have been tearing down Mao statues and deleting websites dedicated to his memory.
Maoist websites have been shut down, sometimes by physically destroying their computers, trashing their offices, and arresting their writers. Government agents "disappeared" the entire staff of one Maoist site in August. Many hardcore communists found it expedient to migrate to Hong Kong, whose semi-autonomous status grants somewhat greater freedom of speech and assembly than mainland Chinese enjoy, although possibly not for much longer.
One political commentator told Radio Free Asia on Sunday the Chinese government created a vacuum for hardcore Marxists by cracking down hard on "liberals" over the past few years – in other words, the more benevolent activists who criticized their government for trampling on free speech and political rights.
The name of the Jasic Workers Support Group refers to the Jasic Technology factory in Shenzhen, where activists claim owners have used oppressive tactics to prevent workers from forming a trade union. Labor activists have also protested the exploitation of students at a Chinese factory that manufactures Apple Watches, where they say students are forced to work grueling hours assembling watches under the pretext of "internships."
http://feedproxy.google.com/~r/breitbart/~3/kgns34jZzKQ/