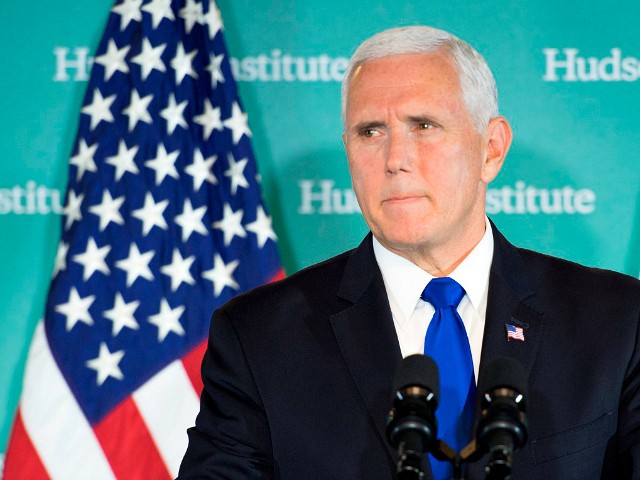 Vice President Mike Pence on Thursday reinforced warnings to China from President Donald Trump that the U.S. "will levy even more tariffs," even double current tariffs, if China fails to forge a "fair and reciprocal" deal with the U.S.
Revisiting the tariffs on $250 billion in Chinese goods the Trump administration has levied on Chinese goods, Pence said, "as the president has also made clear, we will levy even more tariffs, with the possibility of substantially more than doubling that number, unless a fair and reciprocal deal is made." The remarks were met with applause from the Hudson Institute event audience.
He added that the highest tariffs are targeting "the advanced industries that Beijing is trying to capture and control." 
Pence cited specific effects of the "exercises in American strength" on China. "China's largest stock exchange fell by 25 percent in the first nine months of this year, in large part because our administration has been standing strong against Beijing's trade practices." He added that the U.S. doesn't want Chinese markets to suffer but that China must pursue free, fair, and reciprocal trade policies.
He put the onus on China's rulers for refusing the policies the U.S. is calling for. Instead, "Beijing is pursuing a comprehensive and coordinated campaign to undermine support for the president, our agenda, and our nation's most cherished ideals," said Pence.
Pence detailed in the speech at the Hudson Institute Thursday U.S. intelligence on China's efforts to influence American policies and politics ahead of the 2018 and 2020 elections. He said Beijing is also using "economic leverage" to "advance its influence over American businesses."
President Donald Trump and his administration recently finalized the KORUS trade agreement with South Korea, solidified the NAFTA replacement USMCA trade deal with Canada and Mexico, and made strides toward deals with allies including Japan and the European Union.
"Beijing compelled Delta Airlines to publicly apologize for not calling Taiwan a 'province of China' on its website," Pence charged. "And it pressured Marriott to fire a U.S. employee who merely liked a tweet about Tibet."
"Beijing routinely demands that Hollywood portray China in a strictly positive light. It punishes studios and producers that don't," he went on. "For the movie, World War Z, they had to cut the script's mention of a virus because it originated in China. The movie, Red Dawn was digitally edited to make the villains North Korean, not Chinese."
Pence highlighted Chinese Communist Party spending in the billions of dollars to spread propaganda through radio and television outlets reaching tens of millions of Americans and even more throughout the world.
"Our message to China's rulers is this: This president will not back down," Pence declared to applause.
"As we respond to China's trade practices, we will continue to demand an economic relationship with China that is free, fair, and reciprocal," he reaffirmed. "We'll continue to take action against Beijing until the theft of American intellectual property ends once and for all. And we will continue to stand strong until Beijing stops the predatory practice of forced technology transfer."
"We're streamlining international development and finance programs. We'll be giving foreign nations a just and transparent alternative to China's debt-trap diplomacy," he said, adding that President Trump will shortly sign into law the BUILD Act.
The Vice President offered a reference to "Chinese storyteller Lu Xun" who "often lamented that his country, and he wrote, has either looked down at foreigners as brutes or up to them as saints,' but never 'as equals.'"
"Today, America is reaching out our hand to China. And we hope that soon, Beijing will reach back with deeds, not words, and with renewed respect for America," said Pence. The audience applauded yet again as he said, "But be assured: we will not relent until our relationship with China is grounded in fairness, reciprocity, and respect for our sovereignty."
Michelle Moons is a White House Correspondent for Breitbart News — follow on Twitter @MichelleDiana and Facebook.
http://feedproxy.google.com/~r/breitbart/~3/LCC_ZoYy7No/