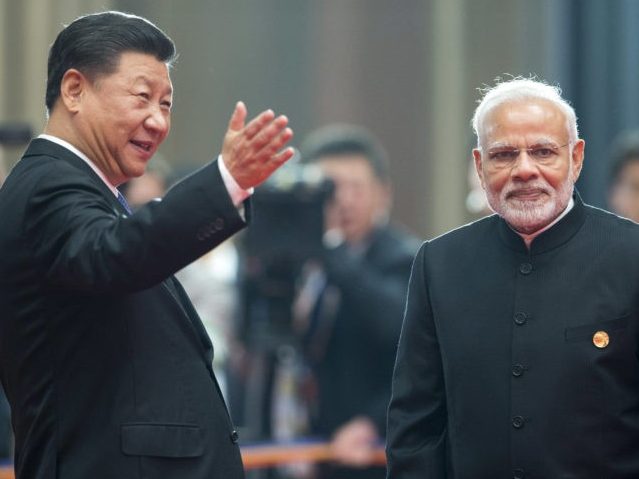 China is seeking to boost its trade and economic ties with India as their trade war with the Trump administration shows no sign of abating, diplomats announced on Thursday.
In a statement by a spokesperson of the Chinese Embassy in India, Ji Rong, Beijing attacked Washington over the recent trade war China claims the Trump administration is waging, claiming that Indian Prime Minister Narendra Modi supported China's efforts to send a "clear message against protectionism."
"President Xi Jinping and PM Modiji spoke with one voice to safeguard the multilateral trading system and free trade at the World Economic Forum in Davos respectively," the statement read. "This year, the two sides jointly participated in publishing the 'Qingdao Declaration' and the 10th Brics Summit Johannesburg Declaration, sending a clear message against protectionism."
"Practicing unilateral trade protectionism in the name of 'national security' and 'fair trade' will not only affect China's economic development, but also undermine the external environment of India," it continued.
Both the U.S. and China have imposed an escalating series of retaliatory tariffs against each other over the past year, as President Donald Trump seeks to rebalance America's trade deficit with China. Around half of Chinese imports to the U.S. have had ten percent tariffs imposed, while China has retaliated with tariffs on American goods worth with tariffs worth $110 billion.
However, despite a rise in Sino-Indian trade over recent years, India also expressed frustration with China's trade practices, especially with their non-tariff barriers against pharmaceuticals, IT products, rice, and meat that have led to a substantial trade deficit of $63 billion.
On Tuesday, the International Monetary Fund reduced its world economic growth forecast for 2018 and 2019 to 3.7 percent based on the trade war's impact on emerging markets.
Ji went on to urge the U.S. against interfering in the ongoing diplomatic war between China and other countries staking claims over the South China Sea, where the Chinese military has expanded its presence over the past year. He also dismissed concern from the Trump administration about Beijing's predatory lending practices.
"The 'militarisation' of South China Sea by China is distorting of facts. The US should stop making troubles and respect the efforts of relevant parties to resolve problems through negotiation," he said. "The allegation that China has put some developing countries into 'debt trap' is an attempt to sow discord."
The meeting between Modi and Xi Jinping comes more than a year after China and India almost went to war over a territorial dispute over the Doklam Plateau, where both countries engaged in a military border standoff between the Indian Armed Forces and the People's Liberation (PLA) after Beijing began constructing a road without approval from Dehli. The dispute ended last August after both sides agreed to disengage and withdraw their troops from the area.
Follow Ben Kew on Facebook, Twitter at @ben_kew, or email him at bkew@breitbart.com.
http://feedproxy.google.com/~r/breitbart/~3/xl1x25mVtfs/