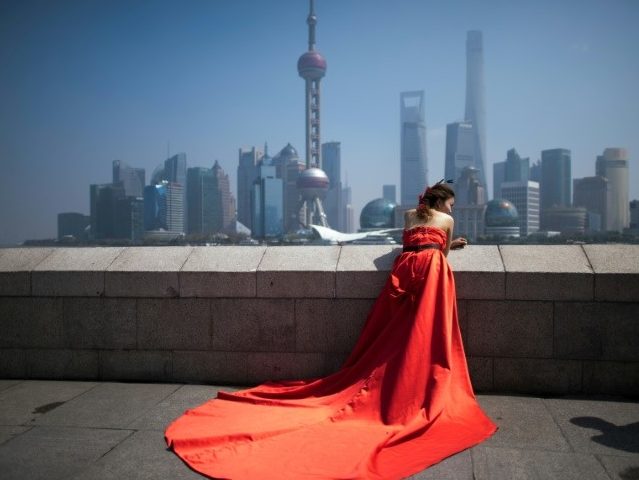 Chinese Communist Party leader  Xi Jinping's administration called for an end to increasingly lavish weddings in the Asian country in a decree this weekend, arguing that expensive ceremonies amount to an anathema to "socialist values."
On Saturday, China's ministry of civil affairs decreed at a conference on wedding reform that instead of an extravagant event, weddings must "integrate core socialist values and excellent Chinese traditional culture into the construction of marriage and family."
Chinese officials demanded that weddings advocate "diligence and thrift, and opposes extravagance and waste."
Asia Times reported:
In a major policy decision, China's Ministry of Civil Affairs has announced a crackdown on lavish weddings after an industry report revealed that spending on opulent ceremonies would double to 3 trillion yuan (US$440 billion) by 2021. Last year, the sector was worth 1.47 trillion yuan and is projected to rise by more than 24% in 2018, a study released by ASKCI Consulting, a market research firm based in Shenzhen, highlighted.

Even though the overall number of people getting married has fallen according to government data, the wedding industry is still booming.
Weddings must also incorporate Xi Jinping "thought," the communist officials stressed in a statement by the ministry of civil affairs, referring to the president's communist ideology.
Alluding to the conference, the ministry declared:
The meeting stressed that it is necessary to thoroughly study and implement Xi Jinping's important thoughts on socialism with Chinese characteristics in the new era, especially on the construction of marriage and family, adhere to the core values ​​of socialism, inherit and develop the excellent traditional marriage and family culture of China, and promote the reform of wedding etiquette.
Beijing will charge local authorities with formulating more specific "wedding etiquette" rules, the statement noted.
The Telegraph acknowledged:
In China, weddings are a way for people show off their wealth – in a culture where the concept of "saving face" is incredibly important, families from all socioeconomic classes prioritize keeping up appearances. The more lavish the wedding, the more expensive the gifts must be from the guests.

Authorities have for years been trying to rein in extravagance at traditional ceremonies, first going after excessive funerals – some families go into severe debt to hold elaborate rites, even hiring strippers and professional mourners – and now, cracking down on opulent weddings.
Last year, the Xi regime reportedly adopted wedding restrictions on everything from the number of guests — stipulating that the must be fewer than ten tables and the number of guests cannot exceed 200 — to the value of wedding gifts, which must be under about $8,800. China banned houses and cars as wedding presents.
According to the Telegraph, the wedding crackdown aims to restrict "bride prices," which have become popular amid the scarcity of women linked to four decades of China's "one-child policy."
"These 'reverse dowries' typically include the cost of an expensive wedding and a cash payment to the bride and her family," the news outlet noted. "Prices, however, have been rising significantly in rural areas the gender imbalance is more acute than in cities."
http://feedproxy.google.com/~r/breitbart/~3/pM2NiCEEKXY/