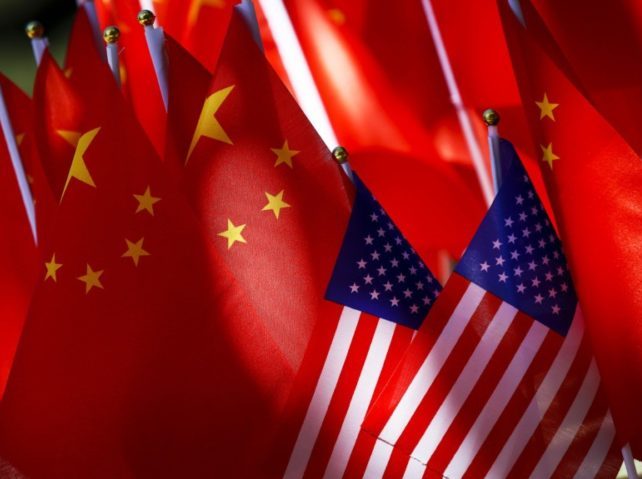 The 2018 United Nations (U.N.) General Assembly has to make do without an appearance by Chinese Communist Party leader Xi Jinping, but there is a heavy Chinese presence at the event, which Beijing – and critics of the Trump administration's foreign policy – see as a golden opportunity for China to assume the mantle of globalist champion and displace the United States as the world's most influential nation.
The UK Guardian on Monday quoted observers who felt the biggest global story of the past year is China's rapidly accelerating rise to power, while the United States withdraws from multilateral institutions and treaties:
In a sense China, through its resourcing of the UN, has earned a right to be heard. For a country wary of concepts such as the interventionist responsibility to protect, China has become the pillar of UN peacekeeping. From providing only 3% of total financial contributions in 2013, China now contributes 10.25% of the total UN peacekeeping budget. It has pledged to provide $1bn for peacekeeping over the next five years.

China has trained more than 8,000 People's Liberation Army troops to serve as standby militia for UN peacekeeping operations. The US, by contrast, is cutting back, albeit from a higher spending base. The US ambassador to the UN, Nikki Hayley, has said the US is just getting started on its cuts to UN contributions.

Not surprisingly, China is seeking commensurate status within the UN. Although it has provided more peacekeeping troops than the other four permanent members of the security council combined since 2012, as yet no Chinese national holds a senior post in any of the 15-plus UN peacekeeping missions.
The interesting thing about the Guardian piece is that everyone at the U.N. seems to understand China is far more "nationalist" than President Donald Trump and his advisers would ever think of becoming, and by now they should realize Beijing is transparently interested in using its globalist clout to become more opaque.
China is a heavy-handed, domineering presence on the world stage that makes no bones about using power to achieve its policy ends. It bought its way into the U.N.'s vaunted human rights apparatus with the goal of making sure human rights investigators keep their noses out of China and its client states:
Already, since returning to the Human Rights Council in Geneva in 2013 at the decision of President Xi Jinping, China has moved from discreet backmarker – the so-called policy of "hide and bide" – to a leading voice pressing for UN budgets on human rights work to be cut or NGO observer status and external funding to be questioned. It has even suggested the phrase "human rights defender" should be excised from the UN lexicon.

At the HRC's March 2015 session, China prepared 35 formal interventions, compared to 26 the year earlier, covering issues such as Syria, Eritrea and Belarus. It tabled its first HRC resolution in June 2017, titled "The contribution of development to the enjoyment of all human rights", and followed this up in March 2018 with another prolix resolution, opposed by the US, titled "Promoting mutually beneficial cooperation in the field of human rights through win-win cooperation". China was furious at the "haughty" US opposition.
None of this speaks well of the United Nations or other globalist organizations, which end up looking like cheap dates, the same way environmentalist organizations are willing to discreetly look away from the billowing clouds of pollution over China's industrial centers as long as China pays lip service to climate change.
Fred Kempe of CNBC detected a cloud of "unease" hanging over the United Nations as it grapples with a variety of obvious crises – Syria, Brexit, the vast migration into Europe and its many awkward ramifications – plus a more nebulous sense that China's rise is a big problem for the postwar liberal order enshrined at the U.N.
Few of the deeply concerned countries seem willing to join the Trump administration in actually doing something to slow China's roll or help the United States resume its position as the anchor of global stability.
Kempe sees a General Assembly made nervous by Trump's unpredictability:
Don't be fooled by the fact that U.S. markets hit record highs this past week, that global growth remains steady, or that the Trump administration in its first two years has escaped any crisis of the sort that came with the 9-11 terrorist attacks of 2001, the 2003 Iraq War or the Lehman Brothers meltdown of 2008.

In my many years of taking the global pulse around UN week, where more than 120 leaders will gather, I've seldom seen or sensed such uneasiness and uncertainty. I've never known a time when the potential sources of volatility have been so widespread geographically.

The debate, hence, has become less about the likelihood of a crisis and more about what form it might take, with what severity it will strike, and whether world leaders will have the capacity to contain it. They worry above all that America looks unbalanced to them, and thus the default source of stability during such a crisis feels like more of a wild card.
Part of the problem is that no one has handled problems like North Korea, China, and Iran the way Trump has, and it is much too early to tell if his strategies are working. "Working better than the experts predicted" is not half bad for a highly unconventional presidency at the halfway mark, but we still have a long way to go before ultimate success or failure can be judged. It is not surprising that the high rollers gathered at Turtle Bay are uncertain where to place their bets.
On the other hand, stability is only a virtue when stable solutions are working. Debonair globalists were utterly unable to do anything about North Korea's march to nuclear missiles. The Iran nuclear deal pumped huge amounts of cash into a malevolent regime that used the money to destabilize the Middle East, support equally sinister governments, and pump weapons into bloodbath civil wars. China's rise happened while multilateralists were riding as high as they have ever been and the United States was tied down with absurd agreements nobody ever bothered to ratify as treaties.
President Trump hammered China for unfair trade policies and intellectual property theft in his speech to the United Nations. "We will no longer tolerate it and we will not allow our workers to be victimized, our companies to be cheated, and our wealth to be plundered and transferred. America will never apologize for protecting its citizens," he declared.
http://feedproxy.google.com/~r/breitbart/~3/lcPCuZg5a_0/