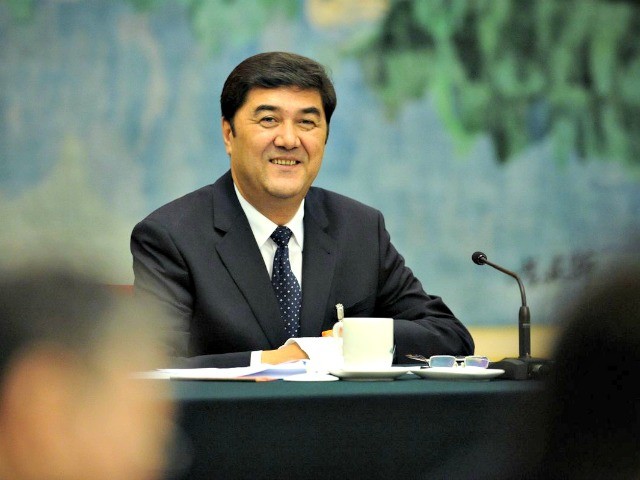 Authorities in China are investigating "serious violations" of corruption by the head of its National Energy Administration, the country's Central Commission for Discipline Inspection said on Friday.
In a statement, the body said that the NEA's leader Nur Bekri, 57, is "suspected of serious violations of the law and are currently undergoing disciplinary review and supervision investigation." Bekri, who is an ethnic Uygur and previously a long-time chief of Xinjiang autonomous region, had been working as normal up until Thursday before the decision was announced.
The NEA chief since December 2014, he was responsible for drafting the government's controversial energy laws and policies, many of which have left rural peasants desperately lacking in heating amid extremely cold conditions. As such, he became the public face of China's efforts to lead the battle against climate change by developing cleaner energy alternatives in a country dogged by widespread pollution.
Although details of Bekri's alleged crimes or misdemeanors were not made public, the term "serious violations" is typically a reference to China's anti-corruption campaign that has already brought charges against one and a half million officials. Bekri's predecessor, Liu Tienan, was in 2014 sentenced to life in prison for taking around $5.3 million worth in bribes for the approval of major projects.
However, the investigation may also be linked to Bekri's heritage as an ethnic Uigur, a minority group currently being targeted by the Chinese Communist Party as part of a draconian crackdown on their culture and Muslim faith. An estimated million Uighurs are currently languishing in "re-education camps" designed to convert them out of Islam and into atheist Chinese communism.
During his time as governor of Xinjiang Uygur autonomous region, Bekri oversaw a variety of regulations placed on "religious extremism" and other repressive measures against the population. Deadly riots broke out in the regional capital of Urumqi back in 2009, which he blamed on separatist figures such as economics professor Ilham Tohti. His later imprisonment sparked outrage from human rights groups around the world.
"This may have some impact on certain policies under development, possibly causing some delays because of the investigation of the top energy official," Tian Miao, a Beijing-based analyst at Everbright Sun Hung Kai Co, told Bloomberg.
"The investigation could also have an impact on specific energy projects if wrongdoing during their development is found. It will have no impact at all on energy if Bekri's problems were related to his decades of government work in Xinjiang," he continued.
Follow Ben Kew on Facebook, Twitter at @ben_kew, or email him at bkew@breitbart.com.
http://feedproxy.google.com/~r/breitbart/~3/LfCVV7Jtpaw/