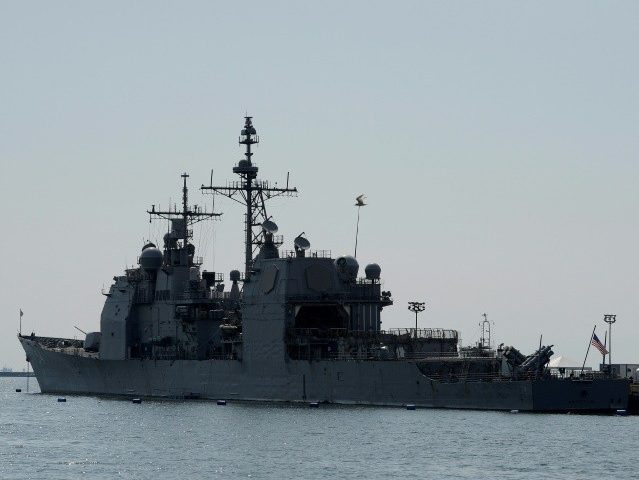 China's Foreign Ministry expressed "strong dissatisfaction" on Monday after two U.S. warships sailed within 12 nautical miles of the Spratly Islands in the South China Sea in a Freedom of Navigation Operation (FONOP).
China illegally asserts control over the disputed Spratlys and surrounding waters. The United States is determined to protect international freedom to sail through the region.
The FONOP involved the Arleigh Burke-class guided-missile destroyers USS Spruance and USS Preble, which patrolled through the area to "challenge excessive maritime claims and preserve access to the waterways as governed by international law," as U.S. Navy 7th Fleet spokesman Cmdr. Clay Doss said on Monday.
"All operations are designed in accordance with international law and demonstrate that the United States will fly, sail, and operate wherever international law allows," said Doss. "That is true in the South China Sea as in other places around the globe."
Speaking on background, a U.S. official said the Navy ships passed near Mischief Reef, which China has augmented with a huge land reclamation project and equipped with missiles, extensive surveillance equipment, and a military-grade airfield, even though the reef is also claimed by Taiwan, Vietnam, and the Philippines.
Chinese Foreign Ministry spokeswoman Hua Chunying claimed on Monday the Chinese People's Liberation Army Navy warned Spruance and Preble against approaching territory claimed by China.
"The relevant actions of the US warships violated Chinese sovereignty and undermined peace, security, and order in the relevant sea areas. The Chinese side expresses strong dissatisfaction and resolute opposition," Hua said.
"China has indisputable sovereignty over islands in the South China Sea, including the Second Thomas Shoal, Mischief Reef, and the adjacent waters," she insisted. "China has always respected and safeguarded freedom of navigation and flight based on international laws in the South China Sea, but resolutely opposes any country falsely using these harm the sovereignty and security of coastal countries."
http://feedproxy.google.com/~r/breitbart/~3/G6flTVNoxfc/