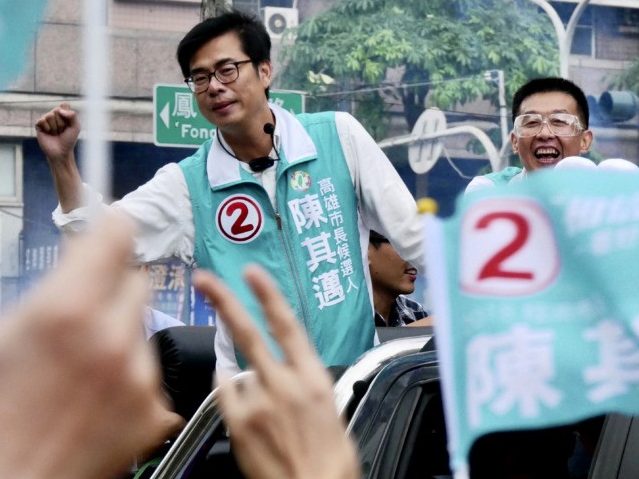 China's state-run Global Times on Thursday denied what it called "vague accusations" of Chinese interference in this weekend's Taiwanese elections. International observers will closely watch the election as a measure of President Tsai Ing-wen's political strength and Taiwan's ability to resist intense pressure from mainland China.
The Global Times slammed concerns voiced by "some mainstream Western media" about Chinese meddling in Taiwan as a form of election meddling itself – a means for Western governments hostile to China to support President Tsai's Democratic Progressive Party (DPP), which Beijing sees as a band of slippery extremists with a dangerous appetite for independence from the mainland:
American Institute in Taiwan (AIT) head James Moriarty claimed that there are external forces trying to guide Taiwan's public opinion and spread false information. He also said that Taiwan is the world's biggest victim of fake news because people on both sides of the Taiwan Straits use the same language and Taiwan enjoys high-level freedom of speech.

No matter Western media or Moriarty, their vague accusations lack evidence. Many of Western media's reports intentionally quoted Taiwan residents who oppose the Chinese mainland and use the partisan language as so-called evidence.

Moriarty and mainstream Western media echo Taiwan authorities' accusation that "The Chinese mainland is interfering in Taiwan's elections." By restating these rumors, it's they who are guiding Taiwan's public opinion, trying to influence Taiwan people's voting.

The American people invented the charge of "interfering in elections." The Democratic Progressive Party (DPP) in Taiwan became the first to follow suit. When Washington used such accusation as a bargaining chip, its purpose was to sway voters by accusing the Chinese mainland of interference. This is the biggest trick of the DPP's elections this time.

Some US officials and Western media are joining in accusing the Chinese mainland of interfering in Taiwan's elections. This has added some Western style to the DPP's tricks.
Contrary to the Chinese Communist newspaper's assertions, the American people did not invent the concept of "interfering in elections" and Western organizations are not the only voice of concern about Chinese meddling in Taiwan.
Taiwanese who favor autonomy accuse some pro-China organizations in Taiwan of becoming agents of Beijing's interests, as in the controversy over including the word "Taiwan" in the name of the team sent by the island to the 2020 Tokyo Olympics. The matter will be put to a referendum on this weekend's ballots.
Former sports minister Yang Jong-her on Friday accused the Chinese Taipei Olympic Committee (CTOC) of "not speaking for Taiwanese, but rather working for China" in opposing the use of Taiwan in the team name. Critics accused the CTOC of blackmailing Taiwanese athletes by threatening to bar them from the Olympics unless they oppose changing the team's designation from "Chinese Taipei" to "Taiwan."
A Taiwanese citizen named Zhang Xiuye who immigrated from China and is running for a city council position in Taipei was arrested last week on charges of accepting bribes from China. The head of a pro-China political party that supports Zhang was also charged with using Chinese money to assist her campaign.
Reports in October indicated Taiwanese intelligence is concerned about Chinese influence with two leading Taiwanese media firms. Chinese capital was said to be involved in the acquisition of these media companies as part of Beijing's master plan to sway the election.
"It is a fact that China has been giving money to groups in Taiwan to create all kinds of conduits and networks to interfere with our elections. Our judicial and investigation agencies have gathered a lot of evidence to back this up," Taiwanese Premiere William Lai said in October as Ministry of Justice officials investigated reports of Beijing putting money behind pro-reunification candidates.
President Tsai wrote a Facebook post last week denouncing a Chinese campaign of disinformation and social media influence resembling the operation Russia allegedly ran during the 2016 U.S. presidential election. Much of this propaganda is designed to make Tsai and her government appear dangerously incompetent.
An independent study recently conducted by the University of Oxford and the Reuters Institute found information spread by the Chinese military through social media flooding into Taiwanese media without much skepticism or fact-checking.
"There are those people who mistakenly think that if you simply shout falsehoods loudly, they'll become real. We must not let them succeed," Tsai wrote.
China's Taiwan Affairs Office responded to Tsai's missive by insisting her allegations of meddling were "completely fabricated out of thin air" and hoping "our Taiwanese compatriots won't believe it."
Channel News Asia sized up the 2018 election as a test of Taiwan's confidence, a referendum on Tsai's reform agenda, and a "bellwether for the 2020 presidential election":
Confidence in the government has waned in recent months after reform moves upset both the opposition and some supporters, who said Tsai had backed away from promises to reduce the deficit and pollution.

Some reforms have "stoked a lot of controversy" and the DPP is facing challenges from the China-friendly opposition Kuomintang, said Edwin Yang, associate professor at National Taiwan Normal University.

Underscoring Tsai's challenge will be a series of public votes on Saturday on whether to make same-sex marriage legal, an issue which has deeply divided Taiwan.

Tsai has made little progress despite campaigning on a promise of marriage equality in the run-up to elections in 2016.
The L.A. Times on Friday quoted political analysts who said a big win for Tsai's DPP could turn her sagging poll numbers around while losing a few key races could undermine her strength and make her 2020 election bid difficult. The same-sex marriage issue could be important because many young voters are reportedly mobilizing for the election to support it, but they might feel disappointed by Tsai's inability to deliver on her reform promises, and there have long been concerns that Taiwan's younger generation is losing its appetite for autonomy in the face of intense mainland political and economic pressure.
http://feedproxy.google.com/~r/breitbart/~3/mrUFWgG_3kQ/