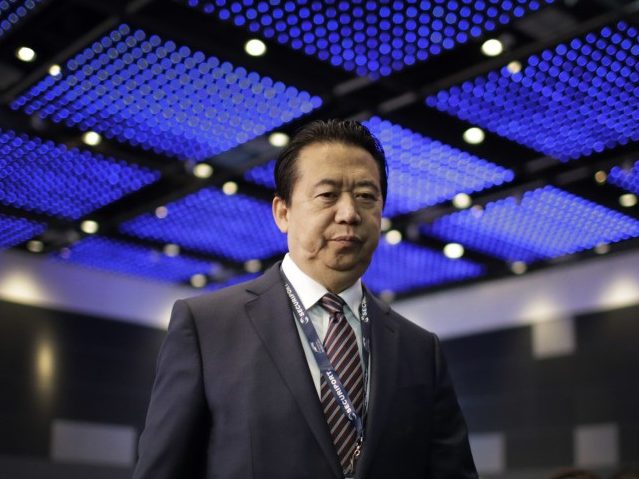 China's state-run Global Times newspaper published a stern condemnation Tuesday of global concern over the disappearance of Meng Hongwei, the president of Interpol who Beijing confirmed it had arrested on Monday on unspecified charges of corruption.
Interpol issued a statement saying it had received Meng's official resignation on Monday; he had disappeared in late September after traveling from France, where he lives, to China to visit family. Interpol did not specify whether they received Meng's resignation from Meng directly or whether the Chinese government claimed that Meng had stepped down independently.
Meng's disappearance, first reported on Friday after his wife Grace reporting him missing to French authorities, triggered global demands for China to clarify his whereabouts and secure his safety. Grace Meng said in a press conference that she reported him missing after receiving a text message only containing a knife emoji from her husband, which she interpreted as a sign that he was in danger. After two days, Communist Party officials confirmed he was in custody, but have yet to provide any more information.
Meng's tenure at Interpol saw the organization crack down on Chinese government attempts to abuse its "red alert" system to target pro-democracy dissidents. Interpol can issue red alerts for individuals at the request of governments, which urge but do not obligate other nations to arrest them. Interpol recently revoked a red alert for a Uighur human rights advocate Chinese authorities wrongfully accused of terrorism, citing a lack of evidence that the man had committed any crimes.
The Global Times asserted that China has every right to arrest whoever authorities choose on its territory and that anyone questioning the legitimacy of Communist Party criminal complaints is exhibiting a bigoted lack of respect for Chinese law.
"The Western media deliberately used such words as 'disappearing' and 'missing' to attack China's political system," the Times claimed. "They are still using these words even after the official statement was released."
"The Western media's brouhaha stems from their disrespect for Chinese law and misunderstanding of China's anti-corruption campaign. Wherever China's legal system differs from the West's, they arrogantly regard such differences as 'flaws,'" the Times continued. The newspaper compared Meng's arrest with that of former International Monetary Fund (IMF) head Dominique Strauss-Kahn in the United States in 2011.
In that instance, police detained Strauss-Kahn on charges of sexual assault. His arrest was a very public affair; at no time did his relatives or colleagues not know his whereabouts and police arrested him in front of international media cameras. Yet the Global Times draws the comparison anyway, asking, "Imagine if the Interpol president were an American and that he was arrested by the police for suspected violations of the law upon returning to the US, would there be a problem?"
The Global Times does not provide any examples of secret arrests in which the person charge disappeared for days on end without comment from the U.S. government in the United States.
The newspaper takes its defense of Meng's disappearance further, defending Communist Party leader Xi Jinping's widespread anti-corruption campaign and condemning the West for not imitating it. In 2014, Xi announced a "mass line" Maoist-style campaign to crack down on corruption within the Party itself, beginning with the removal of 160,000 "phantom staff" from the government and the wholesale cancelation of the use of thousands of public vehicles and buildings. In theory, the anti-corruption campaign was intended to do away with bureaucratic waste and abuse of access to government money. Communist Party officials were warned to stay away from lavish parties and "hedonism" and China's Central Commission for Discipline Inspection given expansive powers to punish those who did not obey.
In practice, it has allowed Xi to remove anyone with questionable allegiance to him as a person and helped China maintain its title as "world's top executioner" for 2018. The most high-profile conviction in a corruption case so far occurred in March, when authorities sentenced former top official Zhang Zhongsheng to death for "extreme greed." Zhang served as vice-mayor in Luliang city, a time during which Xi's regime claimed he took up to $160 million in bribes.
Meng Hongwei, the Global Times noted, is the most prominent individual to face the wrath of the Chinese legal system for corruption. "We believe the fresh application of this new law will have a magnificent deterring effect upon other potentially corrupt officials," the Times argued, adding, "Regrettably Western opinion rarely applauds China's righteous anti-corruption campaign."
Follow Frances Martel on Facebook and Twitter.
http://feedproxy.google.com/~r/breitbart/~3/_02wyKl83cc/