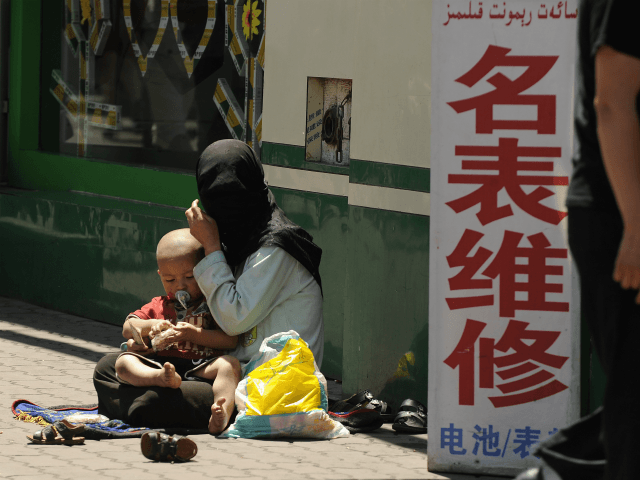 China's state media outlets praised official Zhang Jun and its United Nations delegation on Monday for celebrating the country's alleged human rights progress before the international forum, failing to mention Communist Party leader Xi Jinping's expansion of political re-education camps and terror campaigns against religious minorities.
China – along with several prominent serial human rights violators like Saudi Arabia, Cuba, and Venezuela – is a member of the U.N. Human Rights Council, which required Beijing to submit a report on its human rights situation for its Universal Periodic Review this year. The council approved China's report last week.
Zhang Jun, assistant minister of foreign affairs, addressed the Human Rights Council last week on China's behalf, asserting that the country had made "tangible and enormous progress in human rights" since its last review five years ago, according to the state-run China Daily.
"Over 120 countries spoke positively of the report and praised the concept and practice of human rights with Chinese characteristics," China Daily claimed.
The Global Times, another government propaganda outlet, reported that the council "unanimously adopted the report submitted by China on Friday during the third round of the Universal Periodic Review in Geneva, Switzerland." The Times went on to criticize Western media for allegedly ignoring that progress China has made through its "own standards and value system," which does not match the West's understanding of freedom and human rights.
The newspaper typically takes the most vocal line in English against criticisms of Xi's regime. Last month, the Global Times defended Xi's policy of interning over one million ethnic Uighur Muslims in political re-education camps, where witnesses say they are forced to learn Mandarin, abandon their native Uighur language, memorize Communist Party propaganda songs, and eat pork as a rebuke to Islam, among other forced submissive activities.
"Since the beginning of this year, some Western media and politicians have been viciously attacking actions adopted by Xinjiang to help those affected by extremism to return to their families and society through educational transformation," the Times asserted. "Radical Western politicians and media have set off a wave of anti-China rhetoric and Xinjiang has become their new target."
The newspaper noted on Sunday that China, in addition to receiving praise from the Human Rights Council for its alleged achievements, launched an exhibition called "Development of Human Rights in the New Era in China" this month in Geneva's U.N. outpost.
The U.N. Human Rights Council held a meeting on November 9, where Zhang spoke, to adopt China's report on its own human rights practices. At the meeting, a representative from Kenya – tasked with speaking on behalf of his country, Hungary, and Saudi Arabia, which reviewed the report – stated that the group was "pleased that China will examine" the 346 recommendations the council has for improving the human rights situation, many of which revolved around alleviating poverty. One recommendation did condemn China for cracking down on religious groups, however, particularly Tibetan Buddhists, Uighur Muslims, and Falun Gong practitioners. Burundi, one of the countries reviewing the report, urged China to continue its "crackdown on separatist organizations," language China typically uses in relation to oppressing Uighurs.
The full report from the Human Rights Council in response to China's submission will be published at the end of the month. Among the nations on the council are Afghanistan, China itself, Cuba, Iraq, Pakistan, Saudi Arabia, and Venezuela. The United States withdrew from the council in June citing its chronic support for human rights violators around the world.
China submitted its human rights Universal Periodic Review in August. The review heavily criticized the idea of universal human rights, instead arguing, "there is no universal road for the development of human rights in the world."
"As an important element in the economic and social development of each country, the cause of human rights must be promoted on the basis of the national conditions and the needs of the people of that country, and cannot be defined on the basis of a single authority," the report insisted.
China congratulated itself in the report, and Xi Jinping's "Thought on Socialism with Chinese Characteristics for a New Era," for "ever acting as an advocate, practitioner and promoter of the cause of protecting human rights and always following the road of developing human rights with Chinese characteristics."
China, Chinese officials allege, has "written a historic chapter of human rights progress and broadened the practical programme for international human rights protections." The report specifically claims that Xinjiang, home to post of the Uighur minority, has been home to a new campaign for promoting human rights through investing in Chinese-approved businesses.
What the report fails to mention about Xinjiang is that it is now believed to be home to at least 44 internment camps for Muslim Uighurs. The camps use violence to force individuals to memorize communist propaganda and abandon Islam, according to human rights groups. The Chinese government insists these camps are for "vocational training" and provide a valuable service to its prisoners.
A report from Radio Free Asia (RFA) last week revealed that Beijing has begun targeting Uighur children as well as adults, placing hundreds in indoctrination centers it calls "closed schools" with similar curricula to the internment camps for adults.
Xi Jinping has also ordered an escalation in violent regime acts against Christians, sending government demolition teams to destroy churches and remove crosses nationwide. Reports from within the country indicate that the number of destructive incidents against Christian places of worship has escalated since the Vatican began negotiating with China on a deal that may soon allow the government to ordain pro-communist clergy without Catholic Church approval.
Follow Frances Martel on Facebook and Twitter.
http://feedproxy.google.com/~r/breitbart/~3/P46PEZmjrVs/