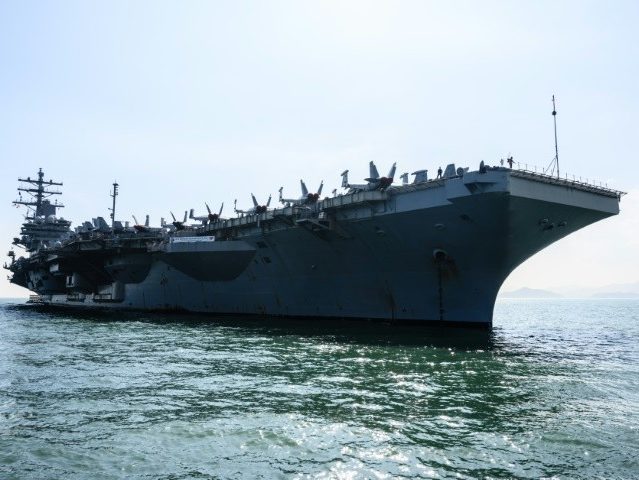 The aircraft carrier USS Ronald Reagan and its battle group arrived in Hong Kong on Wednesday, a friendship visit widely interpreted as an easing of tensions between the U.S. and China just a few weeks after the Chinese refused to allow a U.S. warship to dock in Hong Kong.
The Reagan was cleared to visit on Tuesday by the Hong Kong Maritime Department along with the guided missile cruiser USS Chancellorsville and guided missile destroyers USS Benfold and USS Curtis Wilbur.
"Hong Kong is always an incredible port visit and I'm glad that the officers and sailors of Carrier Strike Group 5 will have the chance to enjoy the culture, vitality and diversity of this great city," strike group commander Rear Adm. Karl Thomas said in a statement.
"The abundant growth and prosperity that surrounds us in Hong Kong is what the United States Seventh Fleet seeks to preserve for all nations in this important region," Thomas said.
The Reagan battle group was recently involved in exercises in the Philippine Sea and joint drills with Japan's Maritime Self-Defense Force, the sort of activity that normally angers China. Another intriguing event took place on Tuesday when two U.S. B-52 long-range bombers operating from Guam apparently passed over the South China Sea on a training mission. The intriguing aspect of the flight was that China apparently did not complain about it.
CNN suggested Wednesday's Hong Kong port call is "likely to be interpreted as a goodwill gesture" in advance of the G-20 summit in Argentina next week, when President Donald Trump will have his first direct meeting with Chinese Communist Party leader Xi Jinping since the U.S-China trade war began. White House economic adviser Larry Kudlow on Tuesday predicted the dispute between Washington and Beijing will "come to a head" in Argentina, one way or the other.
http://feedproxy.google.com/~r/breitbart/~3/GAoODvkNJVI/