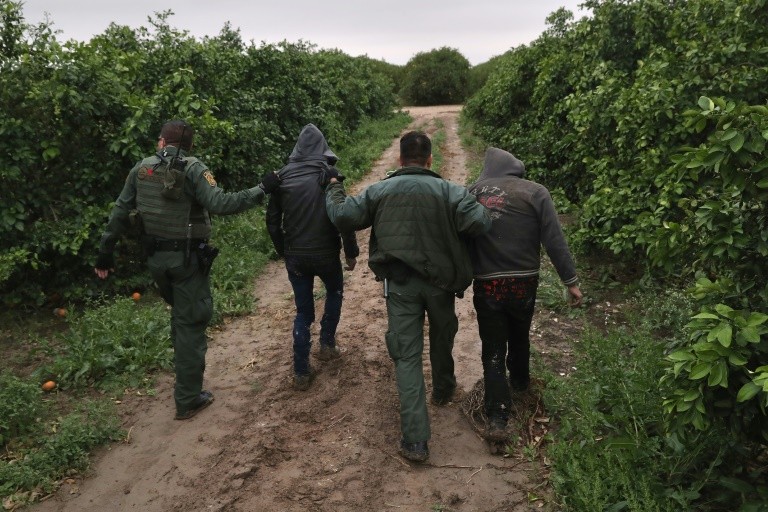 Rio Grande Valley Sector agents arrested multiple sex offenders and violent gang members during a two-day period beginning on November 26. Those included two MS-13 members, an 18th Street member, an alleged sex offender with an active warrant, and two men convicted for other sexual offenses.
On the morning of November 26, McAllen Station agents apprehended a group of eight suspected illegal immigrants near Abram, Texas. The agents took the subjects into custody and transported them to the station for processing. All arrested migrants go through a biometric background investigation to determine criminal and immigration history and gang membership.
During the investigation, the agents determined one of the men to be a Salvadoran national who admitted to being an active Mara Salvatrucha (MS-13) member, according to Rio Grande Valley Sector Border Patrol officials.
Later that evening, agents patrolling near Roma, Texas, came upon another group of five who appeared to have illegally crossed from Mexico. During a background check, the agents learned that one of the men, a U.S. citizen, has an active warrant from Tarrant County, Texas, for an allegation of aggravated sexual assault of a child. The agents turned the U.S. citizen over to the Starr County Sheriff's Office where he will be held pending transfer to the Tarrant County Sheriff's Office, officials stated.
The following day, agents patrolling near Mission, Texas, apprehended a Mexican national for illegal entry into the U.S. The agents processed the man and learned he has a previous arrest and conviction for indecency with a child by sexual contact. The court sentenced the man to spend five years in prison.
Later that day, agents working near the border town of La Joya, Texas, apprehended another Salvadoran national. Court records revealed the illegal immigrant has a previous arrest and conviction from a court in Concord, California. The court found the man guilty of sexual battery, officials reported.
Breitbart News has reported extensively on previously deported sex offenders and other criminal aliens who are stopped by Border Patrol agents from successfully re-entering the United States.
Bob Price serves as associate editor and senior political news contributor for Breitbart Border/Cartel Chronicles. He is a founding member of the Breitbart Texas team. Follow him on Twitter @BobPriceBBTX and Facebook.
http://feedproxy.google.com/~r/breitbart/~3/SFCI4MXBbiY/