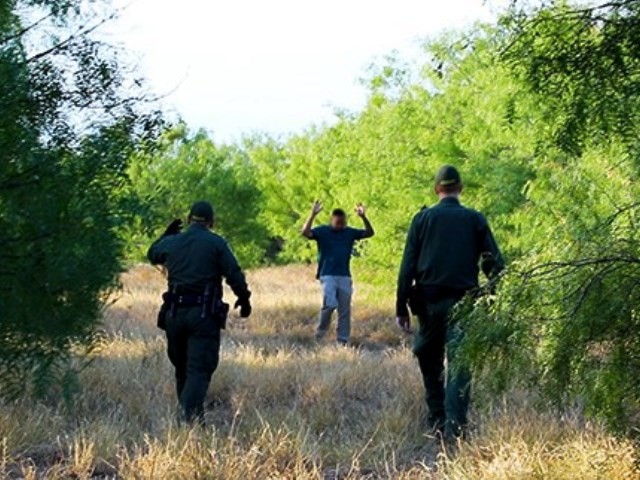 Border Patrol agents in the Rio Grande Valley Sector stopped a previously deported child molester from successfully making his way back into the U.S. interior.
Agents assigned to the McAllen Station apprehended an illegal alien on October 24 near the Texas border with Mexico. The man had just crossed the border illegally near the town of Penitas, Texas, according to information provided to Breitbart News by Rio Grande Valley Sector Border Patrol officials.
The agents arrested the man and transported him to the McAllen Station for processing and a biometric background investigation. During a records check, the agents identified the man as a Honduran national who has a previous conviction for sex crimes against a child.
A court in Miami-Dade, Florida, convicted the Honduran man on charges of fondling a child and indecent exposure, Border Patrol officials reported. The court sentenced the man to four months in jail and added a five-year probation.
As a previously deported sex offender, the Honduran national could now face felony charges in the Southern District of Texas for aggravated re-entry after removal. If convicted on the charge, he could face up to 20 years in federal prison before being removed again to his home country of Honduras.
The man is the third previously deported child sex offender arrested by Border Patrol agents in less than a week.
Del Rio Sector Border Patrol agents arrested a Mexican national near Eagle Pass, Texas, who had just been deported in January following his 2016 conviction for Sexual Assault of a Child in Dallas County, Texas, Breitbart Border/Cartel Chronicles reported. Cort records revealed the man forced his penis into the mouth of a child under the age of 17.
Tucson Sector agents arrested a Guatemalan national who was previously deported after a conviction in North Carolina for taking indecent liberties with a child.
Breitbart News has reported extensively on previously deported sex offenders and other criminal aliens who are stopped by Border Patrol agents from successfully re-entering the United States.
Bob Price serves as associate editor and senior political news contributor for Breitbart Border/Cartel Chronicles. He is a founding member of the Breitbart Texas team. Follow him on Twitter @BobPriceBBTX and Facebook.
http://feedproxy.google.com/~r/breitbart/~3/vodbFQcek7U/