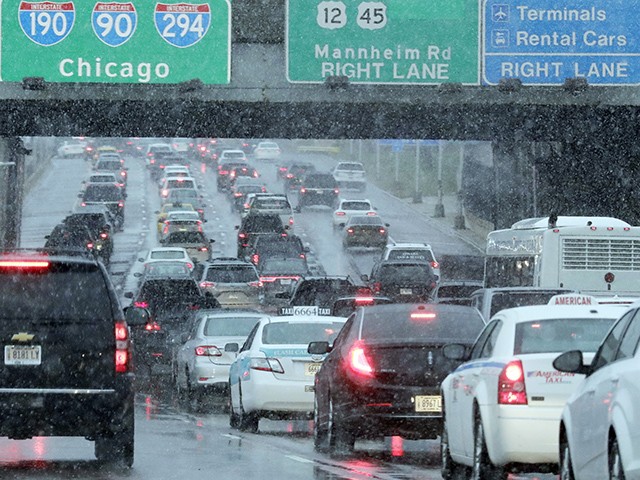 A near-record November snowstorm blanketed the Chicago-area with 13 inches of snow in the last 24 hours, prompting morning commute delays, wide-spread power outages, and hundreds of flights being canceled.
According to the Chicago Tribune, 7.4 inches of snow fell at O'Hare International Airport by 7:00 a.m. local time, 7.6 inches was dumped on Crystal Lake. McHenry County saw the largest bouts of snow with some parts receiving around 13.1 inches, the National Weather Service reported. Further, 4.1 inches and 9 inches of snow fell in Downers Grove and Lindenhurst, respectively. 460 flights at the city's largest airport were canceled and at least 300,000 homes and business lost power.
I-90 at Roselle exit completely snow covered as of 1:04 am. #ilwx pic.twitter.com/BlwD8V2VDS

— NWS Chicago (@NWSChicago) November 26, 2018
Dusting to drifts of 1-2 inches of #snow around #Chicago this AM. Wind howls at times – very strong. Roads + Hwy are wet & slushy. #snowstorm pic.twitter.com/iZFexa5ZPi

— Marlena Militana (@MarlenaTV) November 26, 2018
My parents' backyard north of #Chicago. #Blizzard2018. pic.twitter.com/koSehXzwXg

— Mike Petchenik (@MPetchenikWSB) November 26, 2018
More #snow & wind in #Chicago this AM pic.twitter.com/5CIBtBS6KL

— Marlena Militana (@MarlenaTV) November 26, 2018
"It's going to be messy," said Todd Kluber, a National Weather Service meteorologist, hinting that the area could see even more blizzard-like conditions.
WATCH: High winds and heavy snow creating dangerous conditions and damage on NW side. pic.twitter.com/ied9YJzVUS

— Alexis McAdams (@AlexisMcAdamsTV) November 26, 2018
This year's blizzard is the worst storm to hit Chicago since November 25-26, 1975, which dumped 8.9 inches on the Windy City.
ABC 13 reports other parts of the Midwest were also impacted the major storm:
Strong winds and snow created blizzard conditions across much of Nebraska and parts of Kansas, Iowa and Missouri. The National Weather Service was warning those conditions would make travel difficult in places. Other parts of central plains and Great Lakes region were under a winter storm warning, that could see a foot or more of snow dumped in some places by the end of the day.

In eastern Nebraska, part of Interstate 80 between Lincoln and Omaha was closed Sunday morning because of multiple accidents after snow blanketed that area. That included semitrailer trucks jackknifed across the highway. It was re-opened by Sunday afternoon.
In response to the storm, Kansas Gov. Jeff Colyer issued a state of emergency declaration."Here in Kansas we make it a priority to take care of our neighbors," said Colyer. "We strongly recommend that you postpone travel plans, if possible, however, if you must be on the road, make sure your vehicle's emergency kit is stocked, your gas tank is full and your cell phone and charger are with you and someone knows your travel plans. Also, be mindful of all emergency response personnel out on Kansas roadways and give them space to do their jobs to ensure their safety and that of our citizens."
http://feedproxy.google.com/~r/breitbart/~3/lze_ewCMtDw/