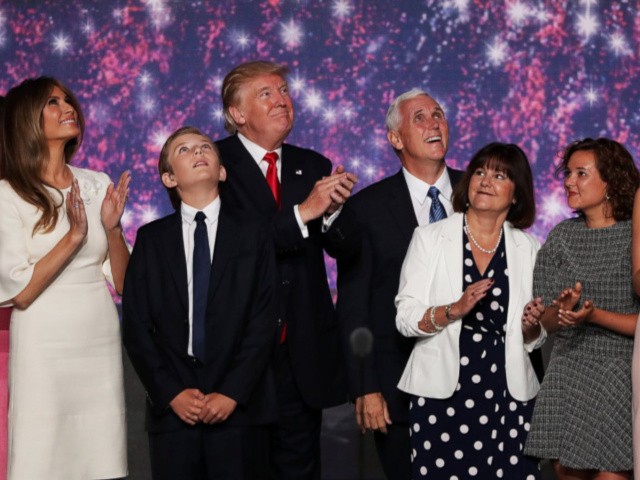 Charlotte Pence delved into her personal path and being a member of the second family of the United States in a SiriusXM Patriot radio appearance with Breitbart News Daily host Alex Marlow, discussing her new book Where You Go: Life Lessons from My Father.
Pence, the daughter of Vice President Mike Pence, has worked in Hollywood's film industry and is now attending Harvard's divinity school. She argues in the book that her family's story is like so many others, but that she hopes readers will be encouraged through the lessons they have learned on their journey.
She said she's been learning from her father her entire life, and those lessons have carried with her.
Pence remarked that her family encouraged diversity of thought as she was growing up and that they all have very different views. She told the listening audience that she hopes that anyone will be able to apply the lessons from her family's story to their own lives.
"How great of a dad he is," that's one of the things Pence hopes people will see through the book. It offers entertaining and funny moments.
She said the book discusses the 2016 vice presidential campaign trail and how her father listened to and encouraged people along the way.
The book is meant for everybody and, in particular, those going through a transition or figuring out what their dream is. "My siblings and I all do very different things and have different ideas," she explained. "Our family has gone through a lot of transition, a lot in the past couple years, and I'm really proud of how we've stayed close through it all," she said, explaining her hope that others going through a transition can get help through their experiences.
Pence spoke of when her family met with the Trump family in Bedminster as her father was being considered as a potential running mate for then Republican presidential nominee Donald Trump. One of the commonalities she recalls learning about their two families was that the Trumps and Pences shared the practice of doing activities together as a family.
The book explores how the vice president and president compliment each other, work together, and make a good team. 
Marlow complimented Pence on her book not painting one side of the political picture or another, so that someone from the right or the left could benefit from reading it.
Pence talked about the day she was with her dad to see the show Hamilton on Broadway. They were very excited to go, but were surprised when the cast lectured them from the stage. There were boos, yes, she explained, but also cheering from the audience. She called it "the beginning of a learning process" for her.
Pence spoke briefly also about her previous book with her mother, second lady Karen Pence, a children's book about their family's rabbit Marlon Bundo.
Michelle Moons is a White House Correspondent for Breitbart News — follow on Twitter @MichelleDiana and Facebook
http://feedproxy.google.com/~r/breitbart/~3/79uxQ7IfybY/