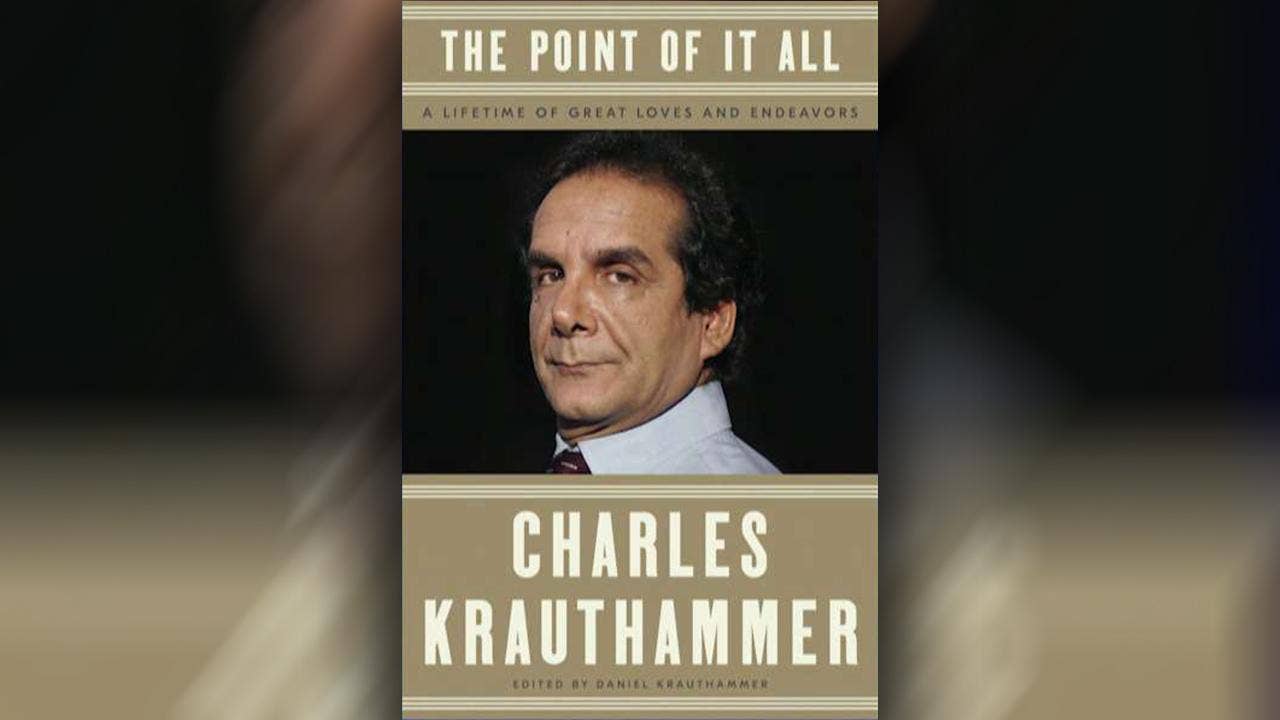 The final word of the late Charles Krauthammer, the dean of conservative commentators, was announced by his son, Daniel, on Tuesday.
"The Point of It All: A Lifetime of Great Loves and Endeavors" is a collection of works by the longtime Fox News contributor Krauthammer, a Pulitzer Prize winner, Harvard-trained psychiatrist and best-selling author. He died in June at the age of 68. 
His son said Krauthammer had trusted him to bring the book "to completion on his behalf."
Daniel wrote in The Weekly Standard that the book, to be released in December, will "ensure that his life's work — his words, his ideas, his extraordinary contributions to the political life of our country — will continue to live on."
Daniel Krauthammer took on the task of editor as his father's health declined, and he said he was grateful for the opportunity.
"I know I am far from alone in believing that my father's voice was a uniquely insightful and powerful one in our national discourse," he said. "I truly believe that the world will be a better place the longer his voice, and its echoes, are heard and read."
The elder Krauthammer achieved mastery in such disparate fields as psychiatry, speechwriting, print journalism and television.
He won the Edwin Dunlop Prize for excellence in psychiatric research and clinical medicine. Journalism honors included the Pulitzer for commentary for his Washington Post columns in 1987, and the National Magazine Award for his work at The New Republic in 1984. His book "Things That Matter: Three Decades of Passions, Pastimes and Politics," became a New York Times bestseller, remaining in the No. 1 slot for 10 weeks, and it held a spot on the celebrated list for nearly 40.
Krauthammer delivered his views in a mild-mannered, steady and sometimes philosophical style, consistent with his background in psychiatry and his detailed analysis of human behavior. Borrowing from that background, Krauthammer said in 1990, after the fall of the Berlin Wall, that the post-Cold War world had gone from bipolar to "unipolar," with the United States as the sole superpower.
He also coined the term "Reagan Doctrine," among others.
Last week, Fox News reported that Krauthammer would be memorialized through a scholarship awarded to the children of Fox News Channel and Fox Business Network employees.
"Charles was a beloved member of the Fox News family, but more importantly, he was an incredible mentor and role model for millions of Americans across the country," Suzanne Scott, CEO of Fox News, said in a statement. "We are proud to honor Charles, his legacy, impact and countless contributions with a new scholarship program enabling the next generation of thought leaders the opportunity and education they need to reach their dreams."
Fox News partnered with the National Merit Scholarship Program, which will accept applications through March 31, 2019; winners will be announced in spring 2020. The scholarship will award winners $2,000 per college year for a maximum of four years.
Fox News' Elizabeth Llorente contributed to this report.
http://feeds.foxnews.com/~r/foxnews/politics/~3/e6DLggrxmSs/charles-krauthammers-final-book-finished-by-his-son-daniel-is-due-in-december.html