The official publication of China's Communist Party, the People's Daily, published a video Tuesday promoting its One Belt, One Road (OBOR) initiative featuring a cartoon panda named "Pan Pan," heavily quoting communist party leader Xi Jinping and claiming the plan will enrich the world through "common development."
OBOR is a global attempt at taking over the world's major infrastructure. China initially proposed the plan as a way to reconstruct the Ancient Silk Road and connect Beijing to western Europe through new roads, ports, and railways. But China has since expanded construction operations to vulnerable countries in Africa and has claimed that Latin America was "traditionally" part of the pre-Columbian Silk Road.
The result has been tremendously destabilizing for developing countries now finding themselves deep in debt to China and forced to hand over control of critical infrastructure to a foreign Communist Party.
Pan Pan's description of the Belt and Road Initiative, as it is also called, differs significantly from the reality of the plan.
The video, presented as the second installment of a series titled "Understanding Xi's Way," compares international development to composing music.
"People who like music know that a solo is good for highlighting the brilliance of a single performer, whereas a chorus is a collaboration of voices and instruments. Each participant brings their own expertise into play," Pan Pan explains. "The Belt and Road Initiative is like a chorus of nations."
He quotes Xi Jinping using this metaphor directly at a recent international forum: "It will be a chorus of all the nations along the routes, not a solo performance by China."
The illustration clearly shows China not participating in the "chorus," which is actually an orchestra, but conducting it, leading the sounds to where China wants them to go.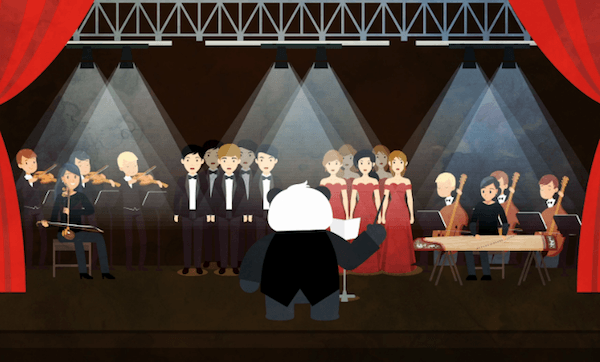 Pan Pan uses as examples of positive developments the OBOR project has triggered the easier exchange of goods between Chinese and European countries and the development of an industrial park in Belarus, a fellow dictatorship. "The park helps companies grow and is good for the economy in Belarus," Pan Pan claims. "It brings jobs, money, products, talent, and technology to the region."
OBOR, he continues, is "like building a skyscraper: you design it, I supply the building materials, and he provides the technology."
Pan Pan ends his explanation with a poem:
"Belt and Road" friends from around the world

common development depends on everyone

Let's work together to realize the blueprint,

Because our chorus benefits us all
The Chinese Communist government often uses propaganda videos like this one to promote its agenda. An animated video of "Big Daddy Xi" featured in a rap performance promoting the regime in 2015. A similar animated rap music video surfaced in March of this year to promote the National Congress, controlled by the Communist Party.
Some allegedly light-hearted attempts to promote OBOR in this manner have failed spectacularly in the past, such as a skit presented for the Lunar New Year that promoted exchanges with Africa but featured Chinese actors in blackface, outraging Africans.
Chinese propaganda outlets have made clear that the goal of Belt and Road is to make China "responsible for the majority of infrastructure projects worldwide." Government officials have repeatedly argued in public that joining the initiative comes with "no political strings attached" and that the program is "open, transparent and inclusive."
This has not been the experience of the countries that first signed onto the program, however, who now find themselves buried in debt and at risk of losing control of transport in their countries.
Among the most egregious examples of this is the state of affairs in Kenya, where China is helping building a railway connecting Nairobi to several regional capitals.
Critics have called China's approach to construction in Kenya "neo-colonialism," noting that China has prevented Kenyans from taking skilled jobs in the project. They have segregated native Kenyan workers out of being able to use the same dining and transportation facilities as Chinese immigrants and have overburdened Kenya's immigration system with requests to import Chinese workers and give them jobs China promised would go to Kenyans.
Kenya also faces a mounting debt to China increasingly likely to be paid in control of the railway China promised to build.
Kenya — and other notable examples such as Sri Lanka and Djibouti — appears to be frightening off some potential collaborators. The government of Pakistan announced this week it would cut $2 billion from its previously allotted budget for Belt and Road projects, citing a lack of resources to properly pay back the loans necessary for the project.
Follow Frances Martel on Facebook and Twitter.
http://feedproxy.google.com/~r/breitbart/~3/FIqXgBg2CKY/