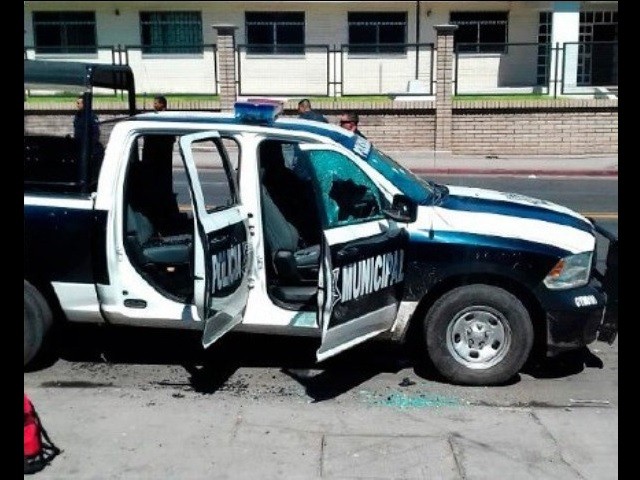 Five police officers were murdered during two separate attacks carried out by cartel gunmen in Guaymas, Sonora, on Thursday.
A convoy of cartel assassins with rifles attacked the Tactical Operations Group of the Municipal Police in Guaymas, leaving four officers dead and one seriously injured, according to local reports. An unarmed transit officer was also shot and killed. The attacks occurred shortly after noon on Thursday in Colonia Centro–an area surrounded by multiple schools–at the time students were being dismissed from classes.
In the first attack, gunmen in several trucks were tailing members of the Tactical Operations Group on Agustín García López Street and Calle Nueve. Shooters opened fire on the patrol. The officers attempted to repel the attack but were overcome by superior fire, according to witness accounts. Two members of the Tactical Operations Group died at the scene and three others were transported to a local hospital. One officer, identified as Dulce Alejandra Rojo, died aboard a helicopter while she was being transferred to a hospital in Hermosillo. Another officer died in hospital. The other officers reported deceased were identified as Enrique Alamillo Romero, Marlon Islas Dueñas, and Pedro Corral Vázquez.
As the cartel gunmen were fleeing the area, they opened fire on an unarmed Municipal Transit Police officer at Calle Catorce and Avenida Serdán, killing him instantly. The transit police officer was later identified as Abraham García Coronado and was assigned to assist school children and parents cross streets safely.
The attacks come nearly two months after more than 200 federal and state police personnel, supported by elements of the Mexican Army, were deployed to once tourist-friendly Guaymas amid violence and threats of a cartel war. A security alert was issued by the U.S. consulate in Hermosillo, prohibiting federal employees from traveling to the popular tourist zones in San Carlos, Guaymas, and Empalme "due to recent violent criminal activity." Concerns were raised at the time regarding a possible cartel war in Guaymas over the presumed murder of three operatives belonging to "Los Salazar" within the Sinaloa Cartel. They were vacationing there when they were arrested by municipal police. The trio was handed over to a rival criminal group.
Los Salazar reportedly issued an order to retaliate against the Guaymas police for the presumed murder of their operatives. The order and a spike in cartel-related violence triggered the security alert.
Six Guaymas police officers were removed from duty pending an investigation and the department was subjected to an inspection of all facilities, vehicles, and personnel by federal authorities.
Robert Arce is a retired Phoenix Police detective with extensive experience working Mexican organized crime and street gangs. Arce has worked in the Balkans, Iraq, Haiti, and recently completed a three-year assignment in Monterrey, Mexico, working out of the Consulate for the United States Department of State, International Narcotics and Law Enforcement Program, where he was the Regional Program Manager for Northeast Mexico (Coahuila, Tamaulipas, Nuevo Leon, Durango, San Luis Potosi, Zacatecas.) You can follow him on Twitter. He can be reached at robertrarce@gmail.com
http://feedproxy.google.com/~r/breitbart/~3/SOLUEY02M6w/