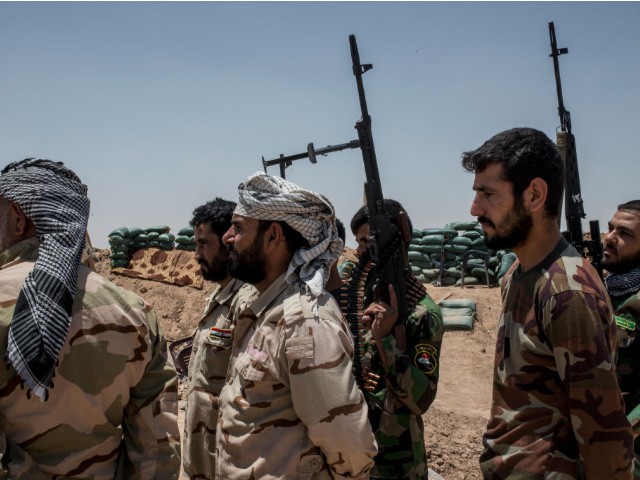 A Canadian jihadi captured by U.S.-backed Syrian fighters in recent months after he traveled to Syria to join the Islamic State (ISIS) in 2014 is now urging his government to repatriate him, complaining to the Agence France-Presse (AFP) on Sunday that the terrorist group has left him "hung out to dry."
The U.S.-backed Syrian Democratic Forces (SDF), a Kurdish-Arab alliance led by the Kurdish People's Protection Units (YPG/YPJ), is reportedly holding hundreds of ISIS jihadis captured in Syria, including 25 Canadians, AFP noted, citing the Families Against Violent Extremism (FAVE) non-profit group. Kurdish YPG fighters also make up the majority of the SDF alliance.
AFP spoke to the ISIS-linked Canadian captive — 28-year-old Mohammad Ali — at an SDF detention center in northern Syria, an area controlled by the Democratic Union Party (PYD), the political wing of the YPG.
Estimates for how many Islamic State-linked terrorists the SDF is holding vary between 700 and 1,000.
"The foreigners feel they were left out, hung out to dry, they've been used and abused," the Canadian jihadi told AFP, adding:
Now the foreigners are trying to leave, trying to get back home. But a lot of the Syrians and the Iraqis, they're just melting back into the population, holding down for a while, and when things start again, they will rise back up. It doesn't really take a genius to figure this out. They have pockets in the desert, they have people intermingling with the population, acting as civilians, just biding their time.
Kurdish authorities reportedly captured the Canadian terrorist, who joined ISIS in 2014, about nine months ago as he attempted to flee north into Turkey with his Canadian wife and two children.
"He is resigned to serving jail time at home but insisted he should not be considered in the same category as accused British IS executioners Alexanda Amon Kotey and El Shafee el-Sheikh, also held by the SDF," AFP noted, referring to the Canadian detainee.
Ali reportedly indicated that "he began doubting his decision to join IS in late 2016, as the jihadists began to lose territory and turn against foreigners, including a Dutch friend of his who was executed by the group."
ISIS currently controls less than one percent of the territory it once held in Iraq and Syria. The U.S.-led coalition and its local allies have pushed the group into an ever-shrinking pocket of land in northern Syria, near the country's border with Iraq. Over the weekend, U.S.-backed SDF fighters launched the final push to defeat ISIS's territorial caliphate
AFP reported:
The Kurdish administration in northeastern Syria wants to send the prisoners back for trial, but governments in their countries of origin are often reluctant. Canada's foreign ministry said it had opened a communication channel with Kurdish authorities but that there was no agreement on repatriation.
Ali lamented that a Canadian official has never visited to "clarify my situation and give me a bit of hope."
"Up until now, nothing," he declared. "I have nowhere else to go … How can they leave me sitting here like this in limbo?"
Last week, the Associated Press (AP) learned from unnamed U.S. officials that President Donald Trump's administration is considering transferring some of the hundreds of suspected ISIS terrorists held in Syria to the military prison in Guantánamo Bay, Cuba, as an option of "last resort."
Ali told the AFP there are no SDF legal proceedings against him.
Although he admitted spending three years as a fighter and trainer, the Canadian captive claims he never shot civilians. AFP acknowledged that it "could not immediately verify the details of the account he gave of his time in the 'caliphate.'"
http://feedproxy.google.com/~r/breitbart/~3/qmbqqTw5oLo/