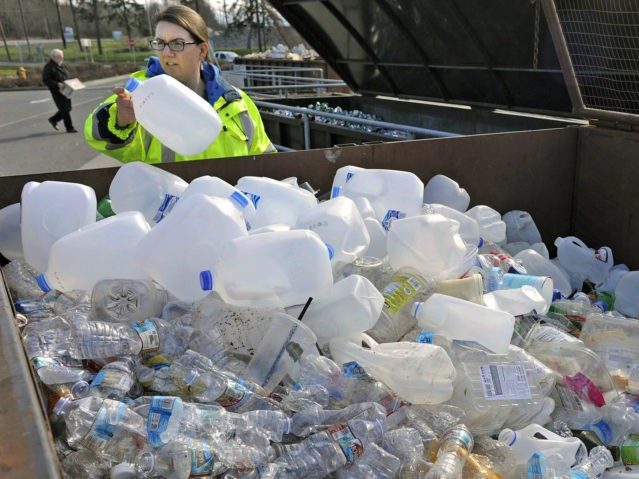 California's Bay Area is facing a recycling crisis, as China ramps up requirements for recycled materials.
Recycling the wrong items can get you a fine of $26.60 in West Contra Costa County. In Marin County, Mill Valley Refuse Service will simply refuse to take your recyclable waste until it has been properly sorted. Eventually, residents can be charged with the cost of dumping the waste in a landfill.
"We're hoping that people will see what they did wrong and clean it out, then pick up the cart the next week," Mill Valley Refuse co-owner Jim Iavarone said.
But the problem lies not with the waste management companies, or even the centers to which they ship their recyclable materials. In fact, it starts on the other side of the world. "Before now, China was taking everything and now they're saying, 'Hey we're not taking this stuff anymore so the processing plants got stuck with it," Iavarone said. He elaborated:
[Then] the processors turned to the haulers and said 'hey we're not taking this stuff anymore' so then the haulers got stuck. Now we have to turn to the consumer or resident at the street level and say, 'OK we can't take this stuff anymore either,' so you have to do more sorting at home. It starts at home.
"Many people put questionable things in the cart hoping that somebody will deal with it down the line," Iavarone continued. "In the past, it went unnoticed because China was buying it. So we became very lax. No longer. Now we have to deal with it."
It is a difficult problem to address, because the guidelines themselves are not entirely clear. "Even the people who are willing to go to the trouble of sorting their stuff are still confused as to what actually is recyclable and what isn't," Iavarone said. "They were used to throwing everything in the bin and they want to do the right thing, but now a lot of what they were doing can't be done any more."
With no easy answers in sight, the only alternative at this point is to be especially diligent with sorting your recycling bin. In order to help, Mill Valley Refuse Service has put a helpful guide on their site about which items are and are not recyclable.
http://feedproxy.google.com/~r/breitbart/~3/wHpic11R7-g/