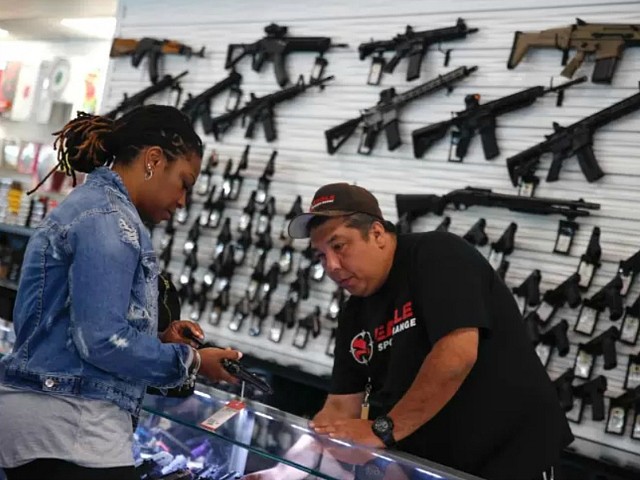 California's Democrat lawmakers are pushing a tax on the sale of handguns and semiautomatic rifles to generate revenue for a program that funds gun control.
The tax is contained in Assembly Bill 18, sponsored by Assemblyman Marc Levine (D-CA-10).
The language of AB-18 explains that the Democrats' goal is "an excise tax on the sales of handguns and semiautomatic rifles," to in turn give the resulting revenue to the California Violence Intervention and Prevention Grant Program (CalVIP).
On July 5, 2017, Highland News reported CalVIP is as a funding program lauded by Gabby Giffords's gun control group. And on June 29, 2017, FilAmStar reported Giffords' gratitude toward Gov. Jerry Brown (D) for allowing CalVIP funding to be used for gun control efforts in the state.
The bottom line — handguns and semiautomatic rifles would be taxed to fund a program which, in turn, funds gun control efforts. And the language of AB-18 admits as much by making clear that that the failure of California's extant gun controls justifies the passage of more gun laws and policies:
Although California has the toughest gun laws in the nation, more effort is necessary to curtail gun violence. The Department of Corrections and Rehabilitation found that from 2014 to 2016 gun homicides increased 18 percent. Therefore California needs to bolster violence prevention initiatives so that they are commensurate with the state's gun laws and the violence prevention programs of other states.
Assemblyman Levine did not say whether he will go a step further and seek a tax on First Amendment rights in order to fund efforts against speech with which Democrats disagree.
AWR Hawkins is an award-winning Second Amendment columnist for Breitbart News, the host of the Breitbart podcast Bullets with AWR Hawkins, and the writer/curator of Down Range with AWR Hawkins, a weekly newsletter focused on all things Second Amendment, also for Breitbart News. He is the political analyst for Armed American Radio. Follow him on Twitter: @AWRHawkins. Reach him directly at awrhawkins@breitbart.com. Sign up to get Down Range at breitbart.com/downrange.
http://feedproxy.google.com/~r/breitbart/~3/gPeGvr9cMZs/