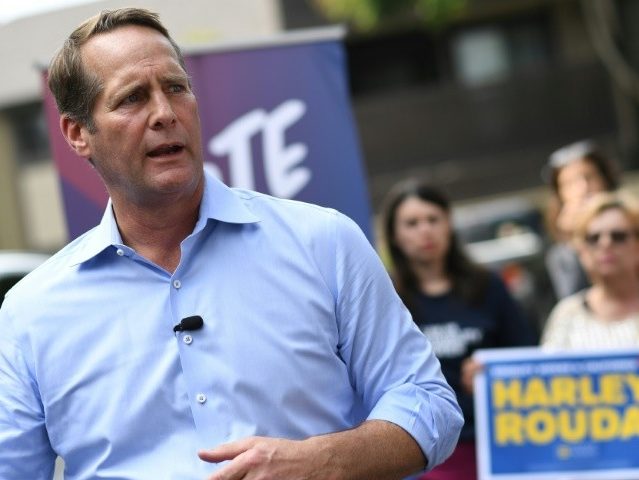 Would-be Congressional Democrats in California are pushing more gun control following Saturday's shooting in Pittsburgh's Tree of Life Synagogue.
Breitbart News reported that Robert Bowers allegedly shot and killed 11 people at the synagogue. He also wounded four police officers.
Harley Rouda, who is running for CA-48, responded to the crime by tweeting:
Today's horrific shooting in Pittsburgh is heartbreaking. Divisive rhetoric and silence in the face of hatred is intolerable. We must all do more to bring our country together and end senseless gun violence.

— Harley Rouda (@HarleyRouda) October 27, 2018
Gil Cisneros, who is running for CA-39, tweeted:
Anti-Semitism or any form of hate is not what America stands for. My thoughts are with the Tree of Life synagogue, the first responders, for those wounded & their loved ones. More than ever, we need common sense gun legislation.

— Gil Cisneros (@GilCisnerosCA) October 27, 2018
And Katie Hill, the gun control candidate for CA-25, tweeted:
I am so thankful to have @AalayahEastmond knocking doors with us in the #AV along with @Bradybuzz. Today of all days I'm reminded exactly what we're fighting for.

This issue isn't partisan and I'm ready to be a sensible voice in the fight to prevent gun violence. #Enough pic.twitter.com/yqGVJZGQn2

— Katie Hill (@KatieHill4CA) October 27, 2018
Neither Rouda, Cisneros, or Hill elaborated on what gun controls that want to pass in the wake of the Pittsburgh attack, but the Democrat Party's go-to gun control–universal background checks–would have been impotent to hinder, much less prevent, the attack. That is because Bowers has a "license to carry a firearm," according to CNN. An extensive background check is involved in the issuance of a carry permit, which means Bowers would have been able to acquire guns via a background check with no problem.
AWR Hawkins is an award-winning Second Amendment columnist for Breitbart News, the host of the Breitbart podcast Bullets with AWR Hawkins, and the writer/curator of Down Range with AWR Hawkins, a weekly newsletter focused on all things Second Amendment, also for Breitbart News. He is the political analyst for Armed American Radio. Follow him on Twitter: @AWRHawkins. Reach him directly at awrhawkins@breitbart.com. Sign up to get Down Range at breitbart.com/downrange.
http://feedproxy.google.com/~r/breitbart/~3/J5FqBV1NumU/