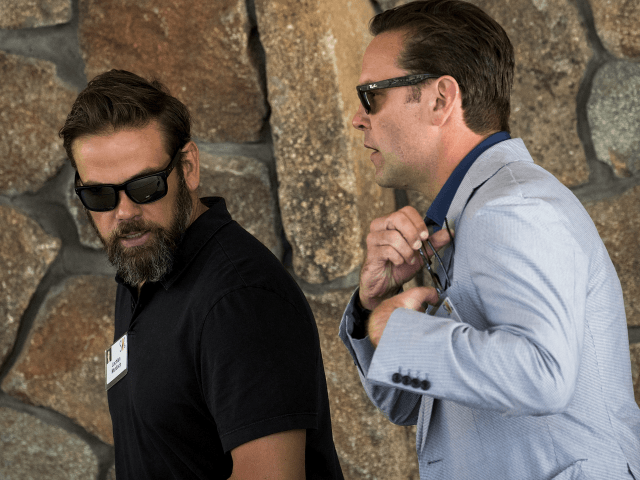 Democrat pollster Pat Caddell told Breitbart News on Monday that Fox News "needs to answer" for prematurely declaring November 6th's midterm elections' results while citizens were still voting in California and other West Coast states. He spoke with Breitbart News Senior Editors-at-Large Rebecca Mansour and Joel Pollak on SiriusXM's Breitbart News Tonight.
Caddell, a former contributor to Fox News Channel, said, "Fox News, the supposed voice for conservative Republicans, announced that Democrats won the House before the actual evidence was in hand and while people in California and other states were still voting."
Mansour replied, "I believe that really had an effect. This was early in the day. People were just getting out of work when Fox called the House for the Democrats. In Orange County, we lost it."
Caddell noted, "Look how many races in California were lost by a hair. Even with that crazy mail-in system that always keeps voting and voting and voting, which is another thing, but how many seats were so close that [Republicans] lost? What I don't understand is this would never have happened with Roger Ailes running Fox. They pledged, all of them including Fox, not to call elections while people were still voting; the national outcome."
LISTEN:
Pollak noted that only Fox News prematurely projected a Democrat House majority. "Even CNN didn't do it," he recalled. "CNN and MSNBC, they would love to see Republicans lose, and they didn't do it."
Caddell remarked, "I wanted to ask [Jason Chaffetz] — who quit his seat to be a commentator on Fox — whether anyone that night raised any hell about this at Fox about doing this [or] allowing this. If I was still at Fox, I would have taken the roof off the building. They made a pledge not to do this stuff. Nobody writes an article. Why hasn't Breitbart or someone gone to Fox and said, 'Who made this decision to do this?' It violates the agreement that you and all the networks made after 2000 with the Congress on the pledge they took not to do these things, calling elections while the polls are still open.'"
During the eve of 2000's presidential election, television networks wrongly projected Al Gore as the winner of Florida while voters were still voting in the state's panhandle. Then-Washington Times writer Bill Sammon described the events, "TV networks helped Mr. Gore exploit the debacle in Florida with a bad call that pre-empted Bush voters in the western panhandle."
Afterwards, the television networks pledged to withhold projections until after polls close.
Mansour said, "I don't understand why they haven't been held liable for it. Is it because Republicans are so reliant on Fox News that they don't want to hold Fox News accountable for this?"
Caddell responded, "I don't know. When Fox News really screws them, when the Murdoch sons really put it to Fox, or Bill Salmon or whoever was responsible, they decided it's a cute thing to do. And nobody gets up. I haven't heard a Republican congressman, leader, or news media go after Fox on this. It's a huge story."
Mansour noted Breitbart's Monday publication of, "Did Fox News Cost the GOP Orange County?", in which Breitbart News's John Nolte examined Fox News's calling of the election results 90 minutes before polls closed in California. Nolte wrote, "Nearly 90 minutes before polls closed in California, Fox Newschose to make the irresponsible announcement that Republicans had already lost the U.S. House of Representatives. Did that early call cost the Republicans Orange County, California?
Nolte highlighted several tight races in California, asking if Fox News's premature projection discouraged California voters from voting on election day:
In the 28th District, Democrat Linda Sanchez beat Republican Ryan Downing by less than 300 votes.

 Out of over 140,000 votes cast in the 39th District, the Democrat won by only a little over 4,000 votes with 51.4 percent. This race was so close, it was not 

called

 until November 17.

In the 45th District, the margin was 51.6 to 48.4 percent with a margin of under 9000 votes out of some 280,000.

With margins such as these, it is not unreasonable to ask if Fox News suppressed the Republican vote with its indefensible Election Night call.

While Democrat voters prefer early voting, it is well known that Republican voters tend to vote on Election Day — which means those after-work hours are crucially important when it comes to turnout.

But for a crucial 87 minutes, between 6:33 p.m. local time, when Fox announced the election for the U.S. House of representatives was over, and 8:00 p.m., when the polls closed, Orange County was told that voting in an important national race that might have been a motivating factor to get in or remain in line, was futile.

Media outlets are supposed to wait until all the polls have closed before calling a race, supposed to wait until all the votes have been cast. For a host of reasons no one should have to explain, this is not only considered good manners, it is an easy way for the media to avoid meddling in elections by discouraging voter participation.
Pollak similarly questioned Fox News's decision the evening of the election in an article entitled, "Critics Question Fox News Calling Election for Democrats with California Polls Still Open." He wrote, "Fox News called the U.S. House of Representatives for the Democrats on Tuesday night just after 9:30 p.m. EST — with polls still open in California for nearly an hour and a half. … Fox News' early call may have discouraged voters from participating in California — and in other western states whose polls remained open."
Caddell declared, "They need to answer for this. That's the problem with the Republicans. You know what my theory is, they would rather lose than win as long as they get rewarded by their consultants. Their little clique in Washington wasn't unhappy to lose the House. They don't know how to fight. Only Trump, apparently, knows how to fight."

Breitbart News Tonight broadcasts live on SiriusXM Patriot channel 125 weeknights from 9:00 p.m. to midnight Eastern or 6:00 p.m. to 9:00 p.m. Pacific.
Follow Robert Kraychik on Twitter.
http://feedproxy.google.com/~r/breitbart/~3/niIfyM5pGzU/