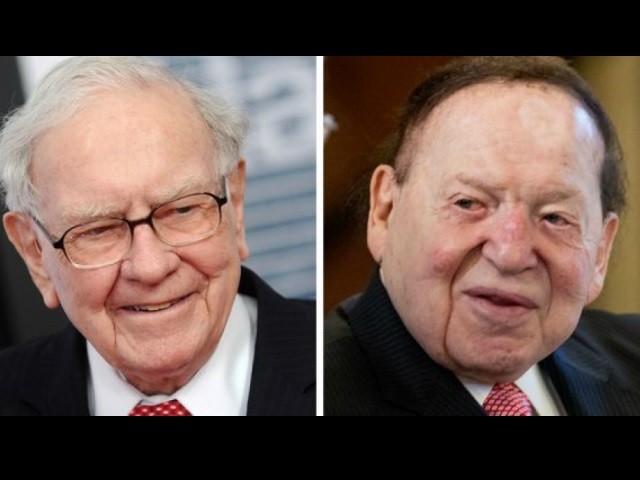 Billionaires Warren Buffett and Sheldon Adelson are in a spending war over a Nevada ballot measure that would determine who controls the state's electricity supply.
Both billionaires are in a fundraising battle over the Energy Choice Initiative, which will appear as Question 3 on Nevada voters' ballots November 6 and would let Nevadans choose their own energy supplier.
Adelson, along with his company Las Vegas Sands, spent more than $20 million in support of the ballot initiative. Buffett, whose company Berkshire Hathaway owns Nevada's largest utility company, NV Energy, has spent twice as much money trying to kill the ballot initiative.
NV Energy spent $62 million toward urging voters to vote "no" on Question 3, trying to brand the measure as a "risky experiment" in a "new, unknown system."
Supporters of the Energy Choice Initiative have criticized NV Energy for using "scare tactics," and have featured tele-town halls with former Federal Energy Regulation Commission (FERC) officials allowing potential voters to ask questions about a similar electricity market in Texas.
The battle has drawn more attention than Nevada's Senate race, and has drawn some unlikely partnerships. Supporters of former Sen. Harry Reid (D-NV) are siding with Adelson while environmentalists are backing Buffett and his government-regulated utility.
A Reno Gazette-Journal/Suffolk University poll in September found that 32 percent of potential voters supported the ballot initiative as opposed to 51 percent who were against it.
The measure also appeared on the ballot in 2016, when it won 72 percent of the vote. According to Nevada law, all ballot initiatives have to pass twice before the state's constitution can be amended.
But analysts say the change in polling has more to do with Buffett's spending against the initiative than with voters' change of heart.
Adelson "certainly should not have let the other side have the field for so long and outspend them the way they did," Nevada political expert Jon Ralston told Politico.
http://feedproxy.google.com/~r/breitbart/~3/n7hCLhmh6V4/