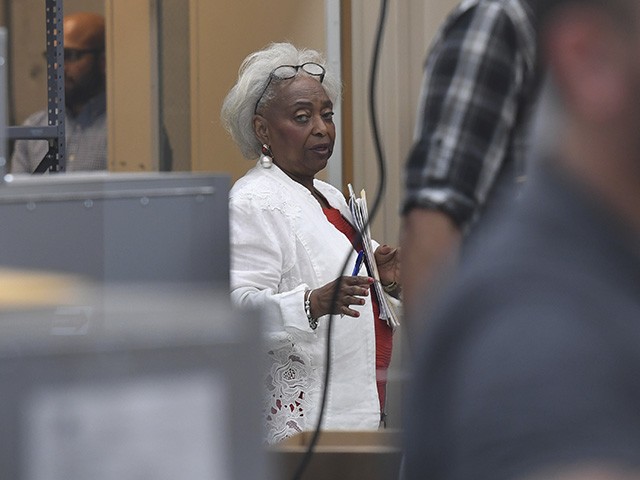 Broward County on Friday began its manual recount one hour later than originally scheduled for in the state's U.S. Senate race between incumbent Sen. Bill Nelson (D)-FL) and Gov. Rick Scott (R-FL).
The Miami Herald's Alex Harris reported Broward County's election office, overseen by embattled Supervisor of Elections official Brenda Snipes, only began training voter counters at 7:40 a.m., though the manual recount was scheduled to begin at 7:00 a.m. Harris shared a photo to Twitter of the scene inside the office with vote counters sitting in pairs equipped with color-marked bins to separate votes.
Broward was supposed to start the manual recount at 7 sharp. They're still settling the hundreds of volunteers & staffers. Training has yet to begin pic.twitter.com/gOrgcJIbUK

— Alex Harris (@harrisalexc) November 16, 2018
Training has begun, but volunteers are still filing in. Attorney is reminding everyone what counts as a valid vote and what's invalid.

— Alex Harris (@harrisalexc) November 16, 2018
The vote counting began at 8:00 am, Harris reported: "And we're off! 8am start time for the manual recount in Broward County. The plan is to finish for the day in 12 hours."
And we're off! 8am start time for the manual recount in Broward County. The plan is to finish for the day in 12 hours. pic.twitter.com/gOt3lTqPcp

— Alex Harris (@harrisalexc) November 16, 2018
On Thursday, Florida Secretary of State Ken Detzner ordered a recount after a machine recount counted in excess of 8.3 million votes cast in the November 6 election, reported first by the Tampa Bay Times.
The paper reported:
The order gives canvassing boards in the state's 67 counties three days to pore over thousands of ballots that were rejected by machines because of "overvotes" — a voter appears to have chosen more than one candidate in a race — or "undervotes," in which a voter appears to have skipped a race altogether. With the help of state guidelines, the canvassing boards, which are allowed to enlist the help of volunteers, will try to determine how these voters intended to vote. It's not entirely clear how many such overvotes and undervotes exist in the U. S. Senate race. A Times/Herald analysis of state and county data shows the number could be between 35,000 and 118,000 But the determination on how those ballots were cast — and the ability of the state's elections supervisors to get through all the ballots — could go a long way toward deciding whether Nelson is reelected or Scott ascends from governor to U.S. Senator.
Broward's late start comes after the county submitted machine recount tallies two minutes after the state's 3 p.m. deadline on Thursday, nullifying the results. The recount would have put Scott up by 779 votes and added 755 votes to Republican Ron DeSantis's lead over Democrat rival Andrew Gillum in the race for governor.
U.S. District Judge Mark Walker rejected a request to extend the deadline for recounts in the state's Senate and gubernatorial races yesterday.  "We have been the laughingstock of the world, election after election, and we chose not to fix this," said Walker.
Walker criticized Palm Beach County officials for failing to secure vote-counting machines equipped to handle the high volume of votes.
Palm Beach County's election supervisor Susan Bucher told officials earlier in the week that it would be difficult to complete the recount on time, something that was not due to a "lack of human effort," she told the media.
The Riviera Beach official closed Wednesday evening because "when you work about 45 hours in a row, you have to let people sleep."
Walker was unmoved be the excuse.
The election will be certified November 20 at 9 a.m.
http://feedproxy.google.com/~r/breitbart/~3/ZBLzzRdGxS4/