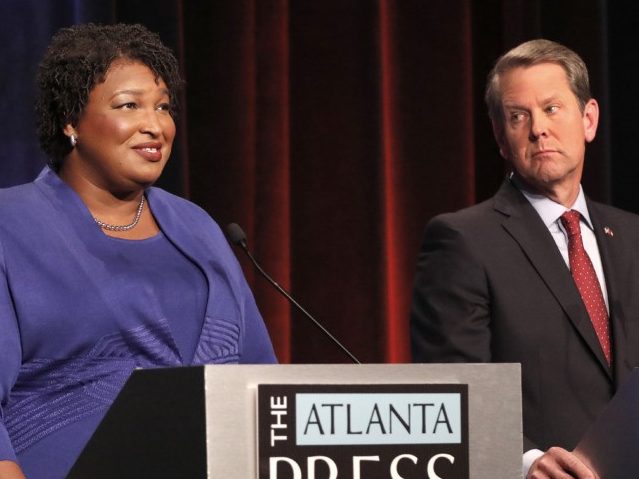 The office of Georgia Secretary of State Brian Kemp, who is also Georgia's Republican gubernatorial nominee, is opening an investigation into the Georgia Democratic Party for potential cyber crimes.
The office announced Sunday morning they would be conducting a probe of the Georgia Democratic Party after a failed hacking attempt on the state's voter registration system.
"While we cannot comment on the specifics of an ongoing investigation, I can confirm that the Democratic Party of Georgia is under investigation for possible cyber crimes," Candice Broce, press secretary for Kemp's office, said in a statement. "We can also confirm that no personal data was breached and our system remains secure."
Democratic Party of Georgia Executive Director Rebecca DeHart released a statement Sunday calling the secretary of state investigation "an abuse of power":
To be very clear, Brian Kemp's scurrilous claims are 100 percent false, and this so-called investigation was unknown to the Democratic Party of Georgia until a campaign operative in Kemp's official office released a statement this morning. This political stunt from Kemp just days before the election is yet another example of why he cannot be trusted and should not be overseeing an election in which he is also a candidate for governor.
Democrat gubernatorial candidate Stacey Abrams said on CNN's State of the Union Sunday the investigation is nothing more than a "desperate attempt on the part of my opponent to distract people from the fact that two different federal judges found him derelict in his duties."
The race between Kemp and Abrams is a tight race, and both sides have brought in high-profile surrogates to vouch for their candidacies.
Vice President Mike Pence campaigned for Kemp on Thursday, and President Trump will appear at a rally in Georgia alongside Kemp later on Sunday. Oprah stumped for Abrams on Thursday at a campaign rally and later canvassed door-to-door on Abrams' behalf.
The latest RealClearPolitics (RCP) average of polls shows Kemp leading Abrams by one percentage point, and is considered a "toss-up."
http://feedproxy.google.com/~r/breitbart/~3/URv80c9yOVY/