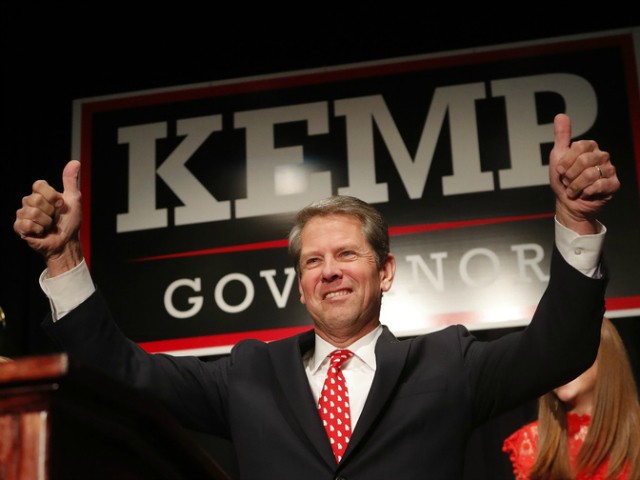 Georgia Secretary of State Brian Kemp declared victory in the Georgia gubernatorial race against Democrat Stacey Abrams.
Kemp said on Thursday that he is moving forward with the gubernatorial transition from his post as the Georgia secretary of state. The Georgia Republican will resign from his post at noon Thursday.
"We're in court this morning still dealing with a lot of these, quite honestly, ridiculous lawsuits," Kemp told reporters at a news conference on Thursday. "We're going to continue to fight that. The votes are not there for her."
Despite Kemp's declaring victory, Abrams has yet to concede the election to Kemp, citing potential mail-in ballots that the state has yet to count. Kemp currently leads Abrams by three percent, or roughly 63,000 votes, making Abrams' potential last-minute mail-in ballot pickup unlikely.
Kemp aide Ryan Mahoney told reporters on Wednesday that the election is over, saying, "We are declaring victory."
Campaign official Austin Chambers said, "The message here is pretty simple: This election is over, and the results are clear."
Abrams' campaign manager, Lauren Groh-Wargo, said the Kemp team provided no "proof" regarding his victory.
Groh-Wargo said,  "He's offered … no indication of why we should take him at his word. The sitting secretary of state has declared himself" the victor.
Abrams said she will continue to press on to fight for the state to count more votes, citing outstanding votes, absentee ballots yet to be counted, and provisional ballots.
"We have three factors to be considered here: outstanding votes, absentee ballots to be counted, and provisional ballots," Groh-Wargo said. "Given those three issues, we believe this is likely heading to a runoff."
President Donald Trump campaigned for Kemp on Sunday in Macon, Georgia, slamming Abrams as one of the most radical leftists running for office during the 2018 midterms.
"Stacey Abrams is one of the most extreme, far-left politicians in the entire country… You put Stacey in there, and you're going to have Georgia turn into Venezuela," Trump said in Macon on Sunday. "I don't think the people of Georgia like that."
http://feedproxy.google.com/~r/breitbart/~3/pA_PQ-Oadgw/